If you're a fan of adult VR and you've also got it real bad for trans porn then it's with great excitement and arousal that I present you with Virtual Real Trans. Share your comments by email.

Pros
Large amount of VR scenes
Scenes are synchronized with smart toys
In-depth help pages
Bottom Line
The Virtual Real Network has yet again knocked it out of the park with its bold move to expand into another sought-after niche outside of simply hardcore. Not only are the scenes on point when it comes to the technical aspects, ensuring the 3D scaling, colors and clarity, but the Tgirls are really hot. There's little I can criticize this site for except for the fact that they could improve their camera angles (which can be said for nearly every virtual porn site) and perhaps including a network-wide subscription, but maybe that's just me being greedy.
My Full Virtual Real Trans Review
Two of the Best Niches on One Site!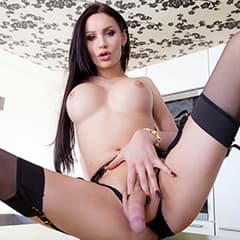 When this site first launched back in 2015, it was the only one that exclusively offered VR adult trans content. Even today, there aren't too many others like it, which kind of leaves me scratching my head as to why, 'cause not only is trans porn friggin' hot in a million different ways, but it's also extremely popular. But Virtual Real Trans belongs to the Virtual Real Network, which has demonstrated multiple times (and quite successfully I might add), its commitment to offering immersive 3D and 180° scenes in a wide variety of niches. There's more to porn than just hardcore, you know!
All the Porn Genres You Could Want
Aside from the fact that the videos are some of the best I've ever seen, I'd like to talk a bit about the two most important elements of them, namely the sex and the models. After you've seen as much porn as I have, sometimes they start to all look the same. Not the case with VirtualRealTrans. There are threesomes, trans-on-girl, trans-on-guy, trans-on-trans, TFM (trans-on-girl-on-guy), TTM (trans-on-trans-on-guy), titty-fucking, blowjobs, money shots, fetishes (mostly feet) black and Latin Tgirls, lingerie and much, much more. You won't get bored on this site, that's for sure!
Videos Will Play on Every Headset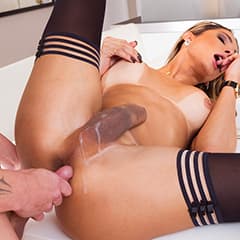 Virtual Real Trans makes watching their scenes an absolute breeze, no matter which headset you own. Streaming is easy, as their on-site player allows you to already move the camera around with your mouse. If you want the 3D to kick in and you have a Cardboard viewer, all you gotta do is hit play on your phone and pop it into your headset. There are also specially formatted files for the PSVR (standard or pro), GearVR and the big boys: Oculus & VIVE. Each scene also comes with a trailer, again in multiple files suited for different headsets, so you can watch a short version without having to download a huge file that you might not be so interested in. Suffice it to say, the 3D effect that I immersed myself in was perfect, with dazzling colors and perfect scaling. Every scene also has its own gallery, which is small, but of high quality. You can only use a slideshow, no downloads.
Filter Your Preferences
Each scene has tags and can be rated as well as favorited, but there's no comment box. Aside from the tags, you're probably going to want to narrow down the number of scenes depending on what you're looking for on that particular day. Thankfully, owing to the excellent design and user features that VRN has on all of its sites, it's real easy to do. There is a basic search bar, but you also have the ability to sort by score, date, title, length, votes and likes. I prefer to use their filter options. You can filter by your favorite model, genre, POV position (most are shot from a versatile POV, but there are a fair number of bottom POVs and even a few from a Top POV), and even teledildonic compatibility.
Do You Own a Kiroo or Lovense Toy?
Yes, you read that last line correctly. We're living in the future here, people. The Videos on Virtual Real Network's sites, including VirtualRealTrans, have been synchronized to work alongside certain Bluetooth-based smart sex toys. So far the scenes work with Kiroo and Lovense brand fleshlights and vibrators. Not all scenes will work with each of those toys, so use the teledildonic filtering option and click on the appliance you own to see which scenes are compatible.
Every Site Should Be Like This One
I've grown almost tired of complementing this network for consistently producing the best virtual porn scenes and the hottest immersive videos I've ever laid my eyes on. But I'm probably just tired from jacking off so much and not from my compliments. I mean, not only was I stoked to see a site that had so many flawless videos featuring hot transgirl action, but they've even hooked up teledildonic capability. This one's a sure thing, folks, you've got my word on that. Be sure to follow them on Twitter for all the latest.
Click Here To Visit Website
Similar Trans VR Sites

Big boobs and big dicks get even bigger when watching them in an immersive VR scene. The trans performers on Virtual Real Trans will give you an eyeful of both at once.

If you like trans porn, you're not going to want to miss out on VRB Trans. Their hardcore virtual reality scenes enable you to choose from multiple positions like no other sites does.
Get the Best Email Deals on Trans VR!
Discounts, scenes and other awesome deals - FREE!

Grooby makes the best trans porn on the planet. Now that they've adopted VR, let's just say you'd better clear your schedule. Get yourself to GroobyVR and take in the view.

Bailey Jay is a stunning trans porn star and having her in reality would be a dream come true. Well, on BaileyJayVR you can feel as though she is right there with you.

If you love VR and transgender porn, you're getting the best of both worlds on Tranz VR! Watch gorgeous Tgirl pornstars in immersive virtual reality scenes.