Real Teens VR is one of the newer sites to hop on the VR porn wagon, with loads of virtual teen porn that you're not going to want to pass up on. Email me.

Pros
100% exclusive videos
All scenes shot in immersive 180° 3D
Cons
Lacking user features & browsing tools
Not much content
No streaming option
Bottom Line
This is a great new hardcore teen site with VR videos that'll have you cummin' til the cows come home. Still, buyer beware, new VR sites like this have not had the time to build up a large stockpile of videos, so don't be disappointed if you binge through them all and have to wait a week for a new scene to be uploaded.
My Full Real Teens VR Review
Gotta Love those Hot Teens!
Welcome to Real Teens VR where the stars are sexy young teens and they're baring it all for you to swoon and salivate over in the most jaw-dropping 180° 3D. I can't get enough VR since it came out and this site delivers on their promise to make you feel like you're actually there in the scene with the girls.
Membership is $24.95 a month, cheaper than an average subscription, or just $1.00 for a 1 day trial, which I think is a great introductory offer. For this review I decided to try out these scenes in both my Samsung Gear VR headset and my Cardboard device.
No Streaming - Download Only
First things first, there's absolutely no streaming, so if you thought you were just going to press play and pop your phone into your Cardboard think again. But every scene has five download options including one for the Gear VR as well as low and high-quality versions for both your smartphone and Oculus or Vive headset.
Immaculate 3D Quality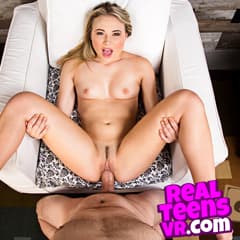 Once I downloaded the files and began watching I definitely had no complaints. The visual quality was immaculate, with perfect lighting, colors and a 3D effect that made those teenage titties seem even perkier! The models themselves are also pretty great. Not only are they super-hot but they're great performers who really throw themselves into their roles, accenting the 3D effect and making the whole virtual reality experience almost hypnotic.
As per usual, I preferred my Gear VR to the Cardboard device. Marketing aside, there's got to be a qualitative reason why the Gear costs on average 10 times more than the standard Cardboard unit. Not only is it a much sturdier device, but the viewing experience is just so much more enjoyable. The Cardboard lacks a manual focus adjustment wheel and the Gear covers your eyes completely, ensuring you see the video and only the video.
New Scenes Added Weekly
The site's navigation and usability is unfortunately rather basic. There's no search feature whatsoever, so the videos can only be browsed by scrolling down to the bottom of the page and then clicking on one of two other pages and browsing again in the same way. There's also no way to filter the videos, or tag, favourite, comment, rate or share them, which kind of sucks. RealTeensVR only has a good number hardcore teen scenes at the moment. And they are adding new scenes at about the rate of one per week.
Hot Teens In VR is the Best!
Their social media team wants you to connect with them through their Twitter and Instagram accounts where you'll be able to see all the latest news and images from recently released scenes, models and much more. They're also on VR Smash, where you can check out plenty of trailers and clips.
Personally I really enjoyed the site and couldn't get enough of it. The videos are superbly put together and offer multiple files for devices of varying capabilities. Now all they've got to do in order to take it to the next level is to add some user features, a better interface and search function, and ideally a streaming option.
Click Here To Visit Website
Similar Teen VR

When you turn 18 you can either start driving or start working in porn. But watching teen hotties in driver's ed on 18 VR doesn't seem as appealing as the other option, does it?

If you're feeling blue and you want to get off to some hot teen VR porn, then check out TMW VR Net. You're not going to want to pass up on an immersive experience like this.
Sign Up for Exclusive Email Offers
Discounts, scenes and deals -All teens, and all FREE!

The scenes on Real Teens VR feature, yup you guessed it, real teens! These girls are going to be right in your face in both stunning 3D and a 180° field of view for you to enjoy.

What could possibly be better than watching perfect-looking teens who are as horny as hell with insatiable appetites having nonstop sex? Watching it in 180° 3D on VR Teenrs!

The SpinnersVR collection has hardore scenes with petite babes and the 180° 3D action puts you right there in the room with them. It's like you can reach out and touch them.