Fresh off the assembly line from heaven, I got an immersive hardcore site for you VR heads. It's called Babe VR and you have one guess at the type of models it's staring. Email me.

Pros
Flawless 180° 3D scenes
Compatible with all devices
Free Google Cardboard (U.S. only)
Cons
Not a lot of variety
Bonus videos are not VR
Bottom Line
Objectively speaking, this site and its immersive 180° 3D scenes are thoroughly enjoyable, to say the least, especially when seen through my precious Oculus Rift. There are no scaling issues, color issues, or anything else, and you'll feel like you're there having sex with a real-life babe. And for some guys who can't get aroused while looking at another man's penis, on this site, the models are performing acts with a male sex doll. While not the biggest site, there's a new video each week, so the collection is bound to grow.
My Full Babe VR Review
This is Why You Bought a VR Headset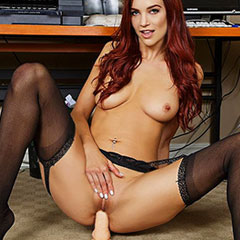 From the good people at BaDoinkVR comes an adult site with hardcore virtual experiences staring only the sexiest women. They know what they're doing so there are no scaling issues or other technical problems. BabeVR currently has 21 videos and they've been consistent in uploading a new one each week, so they should have a larger number somewhere down the line. In the meantime, you can help yourself to the content on BaDoink VIP, a massive site with over 65,000 non-immersive videos from every top studio that you can stream and download on your computer, mobile device, Roku, Xbox, Playstation, Chromecast and AppleTV.
You're Going to be the Only Male in These Hardcore Scenes
Possibly related to that issue of having a low number of scenes, I noticed that they're all very reminiscent of each other. Each video features another babely model, but they all start with a short and suggestive introduction, with the model looking up at you mischievously on a bed. Then the scene proceeds to the sex, which is always on the bed and pretty much consists of a blowjob, a little missionary, a little doggy, cowgirl and then you bust a nut. End scene.
Here's something a little interesting that I noticed. The guys aren't actually guys, but instead, they're anatomically correct male dolls. The idea behind this is that some men will be able to better immerse themselves in the scene without having to feel like they're living vicariously through another man's body. Another important aspect to consider is that you won't hear any moaning or groaning and you can create your own soundtrack.
Have an Erotic Experience No Matter Your Device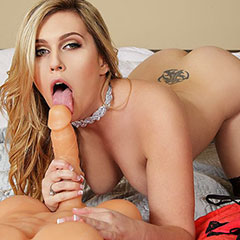 You'll find that all the scenes are in 3D, with a 4K resolution, a 180° field of view and equipped with binaural sound. The site's very good when it comes to being inclusive of all major viewers. Each scene has six different files for download. So no matter if you own a VIVE or an Oculus Rift, PSVR, GearVR or Google's cardboard or Daydream View headset, you'll be able to watch these scenes without a hitch. You can also stream these VR experiences on your mobile viewer if you prefer that.
When's the Last Time You Virtually Fucked a Sexy Babe?
Of course, I would be remiss if I didn't talk about the babes themselves since they're the main reason we're all on this site. The models consist of a mix of newcomers and vets in the biz, and while they might not all be teens (as so often the "babe" type of model is depicted to be), they're all in their 20s and super sexy. Take for instance famous cockthrobs Lexi Belle and Charlotte Stokely. I've been whacking off to them for years. They're hotter than ever in VR as you'll soon find out after immersing yourself in one of their scenes. These girls are real pros when it comes to porn.
Check Out All the Babes in the Model Index
This site has a pretty cool model index that I appreciated, and I think you will, too. You'll find it under the "girls" tab where you'll be presented with a veritable menu of all the yummy stars and starlets with whom you will be able to have very intimate virtual relations. They're mostly white, though there's a couple of sexy Latinas and Asians. Their profiles include a short bio, the scenes they're in, their physical stats and links to both their Twitter & Instagram, which is a great way to find out more about them in case you develop a crush on a particular babe.
Sign Up and Prepare to Be Blown … Away!
Granted, the site doesn't have the largest variety of scenes, but they're uploading a new one regularly and you're getting access to a crazy huge bonus site in the meantime, so signing up is worth it. And what's unique here is their pioneering use of male sex dolls. By removing a real man from the scene, you're able to increase your level of immersion without feeling like you're just looking through another man's eyes. I don't know whether or not other paysites will also start incorporating this technique, but I wouldn't be surprised if they all do at some point.
Click Here To Visit Website
Similar Solo VR Porn

There's nothing as alluring or enticing as a beautiful pornstar. Hence the name VR Allure, where gorgeous women pleasure themselves and talk dirty to you in VR.

Wouldn't it be fun to be able to fuck a different 10/10 babe every night of the week? Check out Babe VR, it's got scenes starring the hottest babes that you can fuck in VR.
The Best in Solo VR Porn - Sign Up!
Get exclusive email offers on the best Solo VR Porn sites!

The name Zexy VR will roll off your tongue as you watch beautiful, glamorous women, from teens to MILFs, strip down to their sexy panties in this 5K collection of solo VR videos.