Want to virtually hang out with gorgeous gay men with perfect physiques and get fucked in VR? Then you're going to love Studs VR. Share your thoughts via email!

Pros
Compatible with multiple headsets
Helpful VR support page
4K 180° videos
Cons
Small collection
No update log or dated content
No bonuses
Bottom Line
Studs VR is a virtual reality site with a focus on hunky gay men with perfect bodies. In this (small) collection of videos, you'll see these guys go shirtless and show off their chiseled abs before they have sex with you. The content isn't dated, so an update schedule is impossible to determine, but at least the videos look incredible, not just because they film them in beautiful locations, but also because they're in Ultra HD and 3D, with 180-degree views and compatible with all the major headsets.
My Full Studs VR Review
Welcome to Studs VR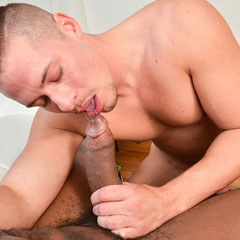 There's no arguing about why this site is called Studs VR - prepare to virtually hand out with sexy, hunky men fucking you in virtual reality porn scenes. Seriously, these dudes must work out for a living or something, because they're ripped and have muscles in all the right places. You've got your jocks and your muscle bears - and they're all hot.
Have Virtual Sex With Chiseled Hunks
There really is a focus on healthy and fit men. Just head to the Studs index and read some of the bios with some basic stats about their age, height and of course, the most important piece of information - their dick size. But you'll also get tidbits about how they stay in shape. Jack Hunter likes to start his day with a protein shake, banana and Greek yogurt. Then he jacks off and works out (not always in that order). Casey Everett likes to stay healthy and even when he parties, his go-to drink is a cran-vodka because, as he puts it, "might as well replenish some vitamins while I'm drinking." Some of them also tell you how they got into porn.
Explore Fun Porn Scenarios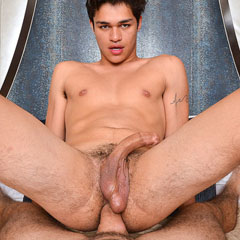 So if you're ready to hang out with these studs, hop on over to the videos section. You might feel a bit disappointed at first because there are only six. But I can confidently say that each one is insanely hot. "Good Game" puts you into a situation where you and your teammate have just returned from a tournament. What better way to relax those muscles than by laying back, letting him suck you off and then moving to the bedroom to fuck each other? Or maybe a business trip ending with sex in your hotel room with your co-worker is more your speed. Either way, there are a few scenarios to explore and each comes with a description and some tags that tell you exactly what you'll experience. You can also head to the categories page to look for other types of scenes.
Stunning 4K Immersive Videos
Maybe the reason there aren't that many videos yet is that it takes time to produce them. I mean, that's just a guess on my part, but these scenes really are incredible looking. First, they choose some beautiful settings. It seems like they rented a multimillion-dollar home somewhere in the hills of California. But also, once you strap-on any of the compatible headsets, like the Oculus or the Vive, you'll be immersing yourself in an Ultra HD, 3D video with binaural sound and a 180-degree view. If you have any issue getting them to play, go to their help page for informative and easy to follow step-by-step instructions.
You'll Love These Gay Studs
I do wish Studs VR was bigger because I blew through these videos in a day and you don't get any bonuses, so chances are you'll do the same. But they're really hot and worth re-watching more than once, so there's value in that. Plus, the quality is super high and you'll really feel immersed as you watch one of these hunks sucks you off or you get fucked in virtual reality porn. The content isn't dated, so I can't say for sure when/if they'll add new scenes, but I hope they do because it would be a shame not to keep this amazing gay VR site going.
Click Here To Visit Website
Similar Gay VR

VRB Gay is making the best gay VR porn, hands down. Strap on your headset and immerse yourself in hardcore 180° 3D gay scenes, either standing, sitting or even lying down.

Disappointed by the lack of gay porn in adult VR? Well, turn that frown upside down! Virtual Real Gay is full of hot hunks in hardcore action that you can watch on your headset.
Solid Deals - Straight to your Inbox!
Get exclusive email offers on the best gay VR sites!

Get up close and personal with twinks, jocks and musclemen on Studs VR. There's nothing hotter than immersing yourself in a virtual porn scene with these sexy gay hunks!