Today I'm proud to introduce the world's very first exclusively gay VR site called Virtual Real Gay. If it's anything like the other sites in the network, it's going to be a beaut. Send comments by email.

Pros
Large quantity of VR scenes
Compatible with Kiroo & Lovense toys
Device-specific help pages
Cons
No network access
Lack of diversity among models
Bottom Line
The scenes you'll find on Virtual Real Gay, like the other sites in the Virtual Real Network, are some of the most sophisticated ones I've seen to date, rivalling even those produced by more well-known porn studios. There's plenty of scenes, 'cause hey, gay porn is extremely popular, and the models are all clearly pros, as they look like they've been cut from stone and they perform with authentic enthusiasm. There's some great features on this site like teledildonic integration and compatibility with all headsets. If you like VR porn and you like gay porn, this one's a no-brainer.
My Full Virtual Real Gay Review
An Exclusively Hardcore Gay VR Site!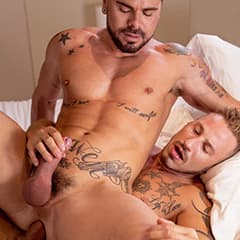 Leave it to the good folks over on the Virtual Real Network to launch the world's first adult site that specializes exclusively in gay virtual content. Someone should nominate these guys for a Nobel Prize, or barring that, an AVN award. That's probably not far from the mark because the network has not only consistently been producing stellar and mesmerizing VR content, but they also keep breaking down walls by creating scenes for every taste and orientation. They're also boldly leading the way when it comes to teledildonic synchronization. That's nerd speak for them managing to get their videos to work in conjunction with smart sex toys. So not only will your eyes and ears enter a virtual world, but your 'nads will also get a hands-free how-do-you-do.
Hot Dudes, But There's Not Enough Diversity
I'd also like to give Virtual Real Gay a suggestion to increase the variety of looks in their male actors, as it's mostly just white Europeans. Another aspect of their models where they aren't so diverse is body type. But that's a good thing! All these dudes are sexy and ripped, with tight abs and biceps, not to mention generously endowed. Some people might complain that they don't really represent the average man. In my humble opinion I think that's silly. These are professional models and not only do they have to look good, but they also have to have the physical stamina and endurance to participate in hot, hardcore scenes, many of which run between 20-30 minutes.
Perfect 3D & Head-Tracking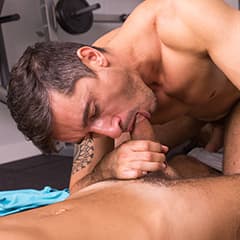 The videos are pretty spectacular. Not only is the 3D effect and 180° head-tracking on-point, as I can attest to personally as I both streamed and downloaded various scenes for both my Oculus Rift & Cardboard headsets, but VirtualRealGay also includes three different cameras depending on whether you're interested in being a Top, bottom or versatile. You can choose the point-of-view by using their POV Position filter. You can also filter the videos according to their compatibility with a specific smart sex toy, model name and genre. There's also a basic search and you can sort by score, date, title, length, votes and likes. Which means you can also rate and favourite the scenes, but there's no comment box.
Compatible With All Devices, Including Smart Toys
Like the rest of the network, their compatibility and inclusion of nearly every mainstream VR headset is something to be commended. Especially their emphasis on the PSVR, which in the early days of its release was thought to be incompatible with adult content. The Virtual Real Network wants to put those fears to rest and not only do they provide a really simple yet effective help and tutorial page for the PSVR, but they also do the same for all the other headsets, like Oculus, VIVE, OSVR, GearVR, Cardboard, as well as several smart sex toys, which is great for noobs and even vets who might have to troubleshoot.
Virtual Real Gay FTW!
Virtual Real Gay is yet another testament to its network, which consistently produces high-quality immersive scenes as well as their dedication to opening up VR to all porn niches. Sure, the models all pretty much have that same European look, but the videos have great themes, plus you can choose your POV. So if you've got yourself a VR device and you like gay porn, you can't possibly pass up on this one. Make sure follow them on Twitter for info on all their latest shoots.
Click Here To Visit Website
Similar Gay VR

VRB Gay is making the best gay VR porn, hands down. Strap on your headset and immerse yourself in hardcore 180° 3D gay scenes, either standing, sitting or even lying down.

Disappointed by the lack of gay porn in adult VR? Well, turn that frown upside down! Virtual Real Gay is full of hot hunks in hardcore action that you can watch on your headset.
Solid Deals - Straight to your Inbox!
Get exclusive email offers on the best gay VR sites!

Get up close and personal with twinks, jocks and musclemen on Studs VR. There's nothing hotter than immersing yourself in a virtual porn scene with these sexy gay hunks!