Hello VR porn lovers! My name is Isabelle. I'm Paul's girlfriend. As you know Paul is well versed in the world of porn and I've learned a lot from him. He recently introduced me to adult virtual reality and so far I'm really liking it. Most of the porn I watched was filmed from a male's perspective and you don't come across many VR sex scenes that serve up a female's POV, but this is slowly starting to change.
Porn is No Longer Just For Men
Believe it or not, the most popular search term in 2017 was "porn for women." I was happy to see this because the porn experience has been predominantly male dominated and it's great to see that more women are showing interest. This niche is less about down and dirty sex and more about the sensual side of coitus, whether it's a lesbian encounter, a masturbation scene or couples. A lot of porn sites are popping up these days with tasteful erotic scenes that are created exclusively for women. And the virtual porn world is no exception – and not only for heterosexual women, but for all sexual orientations like bisexual and lesbian too.
VR Porn From a Woman's Point of View
VR for women is set up the same way as any other virtual porn scene. You can watch them on whatever device you own and they're available in 180°, or even 360° depending on the site you visit. The main difference came when I looked down at myself and saw the body of a woman. Sometimes I was on top and other times the bottom. This setup worked great because it put me in the driver's seat and made me feel like the star of the show. The settings are at times romantic, so you can expect to see cozy, well-lit rooms with candles or fireplaces. Other times the scene took place in a massage parlor.
Specifically Geared for a Woman's Tastes
Based on what I've watched so far, all the scenes were really hot. The guy was talking dirty, grabbing my tits and running his hands all over me. I actually wanted to tell him how good he was making me feel. I felt like a part of the scene and this sexy hunk was pleasuring me exclusively, which made it more personal. I was able to completely lose myself and imagine that it was really happening to me.
Sometimes the guy came really close to the camera, which made things even more realistic. At one point I was able to look up into his nostrils and even hear his heavy breathing as if he were truly there! I could almost touch him and it really turned me on! There were times when I was truly teased, like when the guy was giving me oral sex. When I looked down to see his head in my crotch, I wanted to run my fingers through his hair or place my hands on his sexy shoulders. I could almost feel what he was doing down there and I'll admit that I was disappointed when I finally took off my headset.
Female VR is Not Just For Straight Women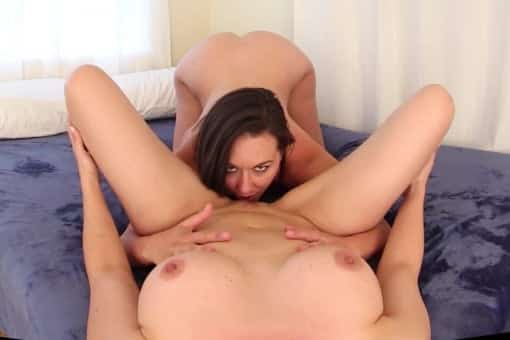 I should also mention that there's a good variety of scenes and they aren't just limited to hetero sex. For example, I watched a solo scene where a babe masturbated with a sex toy right in front of my very eyes. I also checked out a steamy lesbian threesome. I've been in threesomes before, but watching that scene in particular made me feel like I was experiencing something new, which included hot pornstars. Whatever your sexual orientation, virtual porn for women does an excellent job of providing a realistic (not to mention mega-horny) experience and a chance to explore something new.
More Female POV Scenes Are Needed
There's no doubt this niche is becoming more popular. Women are coming out of the proverbial closet and I hope to see the industry producing just as much "for women" content as they are for the guys. Adult virtual reality as a whole is still fairly new, but so far I think it's safe to say they're on the right track. At the moment, though, I feel like female POV scenes are a little harder to find if you don't know where to look. Yanks VR and VR Bangers are two sites that contain a good amount of scenes shot from a woman's perspective and I recommend paying them a visit. As more sites become available, I'll be sure to write about them. Stay tuned!