You Need to Experience StasyQ VR
Grab your headset because on StasyQ VR, getting close to these incredible women can be your reality in just a few clicks. The best way I can think of to describe the site is that it's the Met Art of VR porn, with top-of-the-line ultra-high-quality erotica.
There is a place in porn for the hardcore stuff, but StasyQVR stands out with an eroticism that's relaxing and arousing while you immerse yourself in a room with these stunning babes. Gorgeous Eastern Euro women populate the site and all of the movies are presented in 4K.
The videos are generally on the short side (less than 10 minutes), which is the perfect amount of time to get lost in the beautiful and exotic world each scene creates. Sit back and de-stress from the pressures of the holiday season and watch as beautiful girls pose, strip, tease and look right at you while they do it. Hypnotic instrumental music plays in the background, creating the perfect ambiance.
Enjoy Standard StasyQ Scenes Too
While I've been spending all of my time on the VR site, there's also a standard site that I want to recommend, simply called StasyQ. It has the same stunning girls and high-end erotica, and there's also a fun "backstage" section where members can watch the girls behind the scenes, joking around, teasing and flirting. And they're pretty good about providing subtitles given that English isn't their first language.
It's perfect if you don't have a VR headset. However, once you get yourself a VR device (there are some lower-cost options that do that job), you'll definitely want to kick back and let these virtual reality scenes take you to a whole new level of arousal and engagement.
My Favorite StasyQ Girls
When I first started writing this blog I thought it would be fun to tell you about my two favorite models on the site. What I didn't think through was how hard it would be to pick just two! So, here are my favs of the moment (ask me again in a few days though).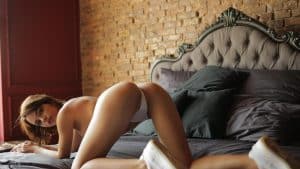 NatellaQ: Her bio begins with "once you lay your eyes on me you will fall in love, that's one thing I can guarantee." And, man, is she right about that! Natella is an exquisite German beauty with an incredible body – and those eyes! I found myself staring right back and getting completely drawn into her. Add in the VR aspect and her immersive scenes had me fully committed to the experience, forgetting that I wasn't actually with her in person. Natella's adventurous side led her to the erotic and exotic world of StasyQVR and we should all be very grateful!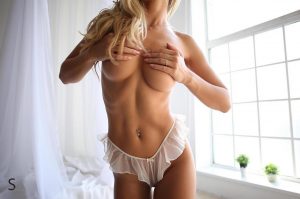 DaleeQ: Dalee is a graceful and bewitching 24-year-old blonde Italian. She has a fabulous body and an amazing pair of all-natural tits! She says she got into the business when a manager saw her and told her she "was born to do this kind of job." And according to her (and me), that guy was right! Dalee sees what she does on StasyQ as art and takes pride in her ability to please and tease via the camera. I'll admit that she has pleased me many times since I first discovered her here.
The Perfect Way to Virtually Relax
We all get stressed, anxious and busy with all that life throws at us. But getting rid of that stress and finding ways to bring joyful relaxation into our lives is a key to staying happy and healthy. And what better way to forget about your problems and feel the tension melt away than with the help of stunning supermodel-esque beauties whose pleasure comes from providing you with the most engaging, erotic and titillating solo nude VR show around.
Whether you already have a VR headset or end up getting one for Christmas, StasyQ VR is one of the sites you must explore. Make it a resolution to continue to do so in the New Year. You owe it to yourself!