Beautiful young women are wearing lingerie and other sexy outfits while they tease and strip for you in 5K virtual reality scenes. You'll love seeing them get naked and titillate all your senses! Share any thoughts you have via email!

Pros
5K videos
Compatible with Deo VR app
Cons
No VR bonuses
Some short videos
Bottom Line
The experience I had on Stasy Q VR was unique. It's very different from what you normally get on a VR porn site because instead of virtually fucking the girls, you're watching them strip and tease you. Using my Oculus Quest, I got to enter virtual environments with some of the most beautiful Russian teens I've ever seen in solo porn. What made it even better was that I was able to get up-close and personal in 5K! Even when I streamed the videos, I never had to worry about buffering issues. So sit back, relax and get ready to enjoy this softcore VR erotica as much as I did!
My Full Stasy Q VR Review
Solo VR Porn with Russian Teens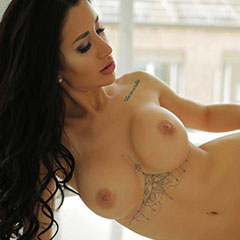 Class, sophistication and elegance. Not the usual words you hear when describing the average VR porn site, but it makes perfect sense on Stasy Q VR. Imagine being in a virtual environment, like a beautifully decorated home, with a gorgeous girl wearing the most revealing lingerie as she slowly walks up to you to perform a seductive striptease. That's just a taste of what you'll get inside!
Softcore VR on an Oculus Quest
There are 130+ virtual experiences for you to plunge yourself into and each one is unique. Do you want to lounge in a bathroom with a smoking hot blonde taking a bath, or watch a sexy nerd read a book as she slowly removes every article of clothing? Either way, all the girls look like runway models. Expect slim Russians between the ages of 18 and 25. There's no POV sex, just you watching them strip, dance and tease you in a variety of scenes that take place in fancy apartments. It makes sense why this site advertises itself as Playboy-style VR erotica.
I had seen enough brightly colored thumbnails to know I was excited to get started, so I wasted no time grabbing my Oculus Quest and downloading a couple of scenes. The first one had me in a minimalistic studio apartment with a girl named Anella. She had me follow her around the room as she looked over her shoulder every now and again, giving me sensual glances and then slowly stripping until all she was wearing were her heels.
5K Resolution on Any Headset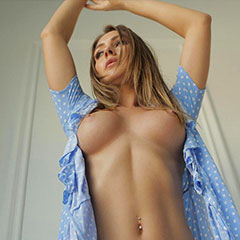 The beauty of these ladies is matched only by the superior quality videos. Thanks to 5K resolution, 60fps and a 180-degree field of view, I was able to see them clearly. I never lost focus as the camera followed them around the room. All the scenes have soft music in the background, but I wish I heard the girls more. I lost out on the opportunity to hear them talk, giggle or moan and you can tell they're doing that sometimes. Also, some of the scenes only lasted about eight minutes, which is a little short.
If you're going to download, they offer compatibility for all the major headsets, including every variation of the Oculus, HTC Vive and PSVR. The sharpness comes through a little more on a higher-end device like the HTC Vive, but trust me when I say even on an affordable device like the Gear VR or Oculus Go, the 5K quality shines, though the bitrates are lower. You're hardly going to notice though.
Seamless Streaming Experience
Streaming VR scenes can sometimes lead to buffering issues or sub-par quality. But that wasn't something I experienced with Stasy Q VR's content. I started by streaming the video directly through my headset's built-in browser but then switched over to the Deo VR app, which provides smooth playback for the entire collection. Both times I was getting a superior quality video that looked nearly as good as a downloaded one.
Watch Out For Motion Sickness
A word of warning for VR newbies. The fact that these scenes involve a lot of movement means you might be susceptible to motion sickness. It's caused by the fact that you're sitting still, but your brain thinks you're walking around. If you find yourself feeling a bit sick, take a break. Also, try watching some of the older scenes. They don't have the same "moving around" element. Instead, you stay put while the girls walk around you, so it's a good way to ease into things.
An Unforgettable Softcore Experience
StasyQVR evokes a classy vibe. It makes me want to sit down with a glass of wine, light a candle, slip on my headset and enter their world of sophisticated, high-end erotica. And of course, all this is accentuated by 5K videos running at 60fps. It's a feeling that they nail with their gorgeous models and posh locations. It's very much the Playboy of VR. You don't get any bonus content, but at no point did I feel like I needed it because the collection is big, it's growing and I found myself rewatching the videos multiple times.
Click Here To Visit Website
Similar Babes VR

Virtual X Porn has a roster of European models who just can't seem to get enough sex. So strap on your VR goggles and you can have a crack at them too!

Find yourself right in the middle of the action as the gorgeous girls on Stripz VR put on sensual and arousing stripteases for you in virtual reality. Reach out and try to touch them!
Sign Up Today!
Get exclusive email offers and find your next fav VR beauty.

Wanna hit the clubs tonight? Well, keep in mind the dress code, plus you gotta pay cover, etc. Why not just stay in and go to VR Clubz instead? You'll get lucky every time.

If you've got a thing for amateur lesbians and you own a VR headset, this site was made for you. These girls love fooling around and you'll love watching them in 180° stereoscopic 3D.

Look around 180 degrees and experience beautiful babes in lesbian and straight porn. On Real Jam VR, it's all filmed POV to put you right in the middle of the virtual reality action.

StasyQVR brings you premium high-quality erotica. These women look stunning in 4K 60fps videos. The locations are high-end and you'll have a fantastic view as girls strip and tease.

Masturbation is an intimate experience between a woman and her body. On this VR site, they want to share that intimacy with you. Enter a virtual world where babes cum in 3D.