Isabelle and I are often too busy watching porn and camming most of the time to get in much swinging, but we've always been open-minded about that kind of thing. I've also had some cuckold fantasies. But my three favorite cheating-wife VR porn scenes approach the fantasy from a different angle. This immersive action lets me cheat with a slut wife while her husband is away! And I realized that it's just as much fun, if not more fun, to be the "other man" in the scenario.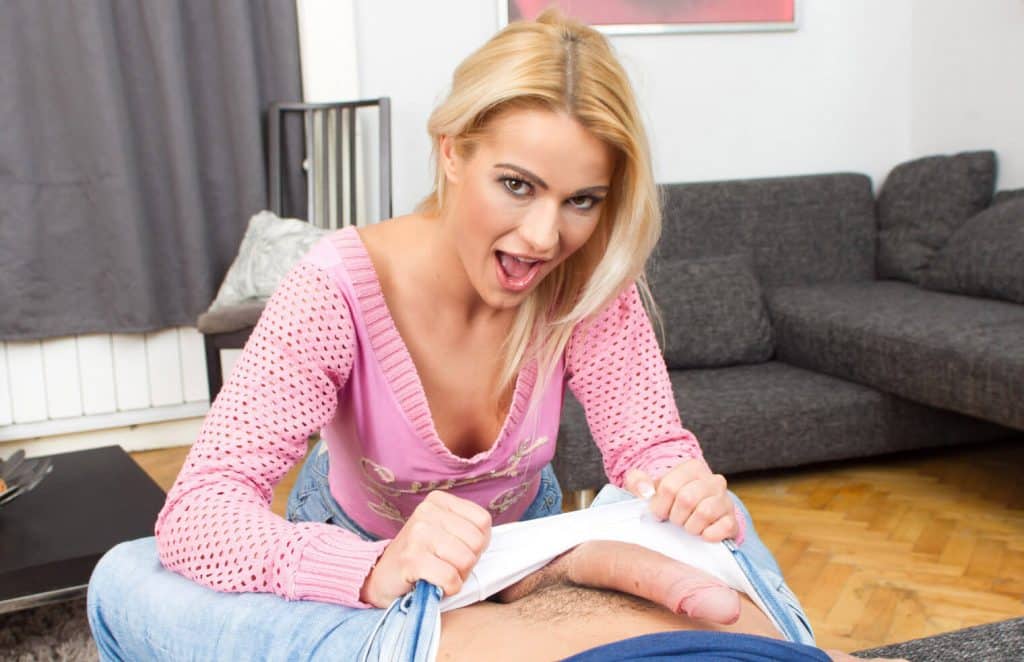 Cherry Kiss is literally having anal sex in this VR scene and who doesn't enjoy wordplay in a title plus butt sex? She plays the role of a cheating wife who fucks her husband's friend – and you're her hubby's pal. Actually, your buddy might only be her boyfriend, but their official marital status doesn't matter much. The point is that you're just hanging out minding your own business on the couch when she walks in wearing a miniskirt and a midriff top that keeps falling off her shoulders.
She walks right up to you and says in her thick Serbian accent that she notices you've been giving her the eye and she likes you as much as you seem to like her. When she leans down to rub your cock through your jeans, you get a downblouse glimpse at her braless tits. She pulls your dick out so she can ride it and then you fuck her ass. It ends with an ATM blowjob. Does this cheating girlfriend swallow? I can tell you that she finds your jizz finger lickin' good!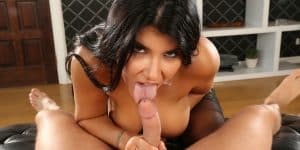 They call it "breaking the 4th wall" when a performer addresses the audience directly. But I'm not sure what you call it when you're watching a VR porn scene from a third-person perspective and then it switches to a POV encounter? That's what happens in this virtual Romi Rain encounter because at first, when she greets Seth Gamble at the door, it looks like you might be in a cuck porn scene. But soon the camera has him morphing into you!
It turns out that you're this wife's best fuck friend! Once you're lying on Romi's bed, Seth fades to a distant memory as she gushes about how much better you are at banging than her hubby is. Of course, the proof is in the pudding when your dick ends up in her pussy. You do her doggy style and she rides you cowgirl. The hookup ends in an ATM blowjob and this cheating wife sucks your cock and swallows your cum!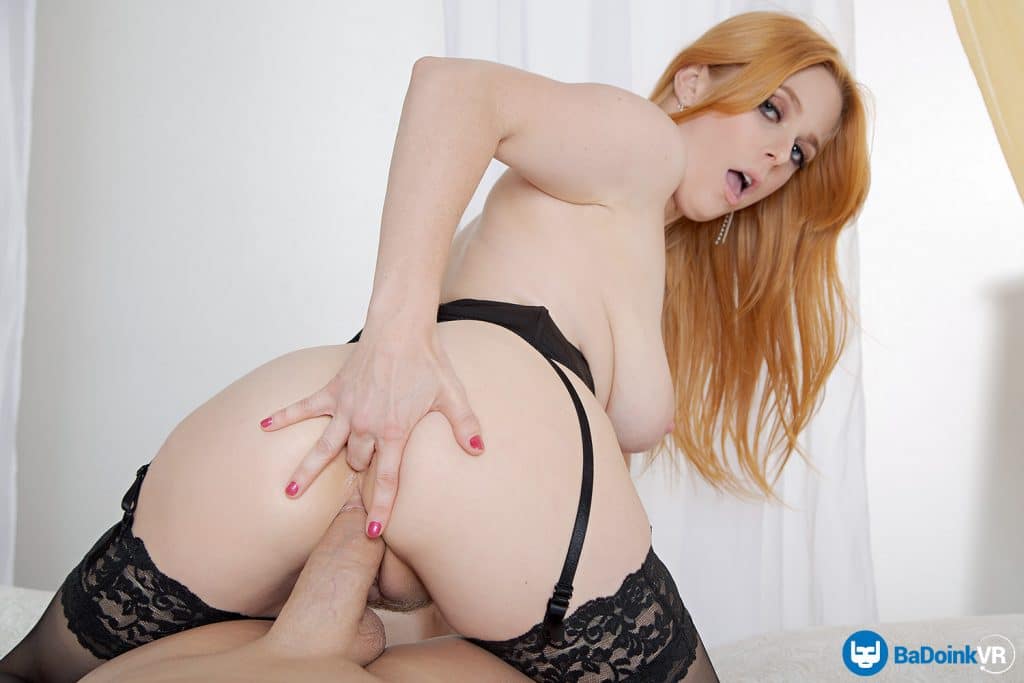 This Penny Pax taboo VR porn scene reminds me of the wild family dramas that play out on those tabloid television shows like Maury. Penny's husband isn't just a cuckold with a cheating wife, he's also a son betrayed by his father who's sleeping with her. Granted, fiery-haired Penny does come on strong to her father-in-law. Maybe you think you can resist her? There's any easy way to find out – see if you can watch this porn scene without getting turned on! Before you take up the challenge, let me give you a summary of what you're up against.
You're lying in bed when your son's wife decides to drape herself across your crotch with her big boobs popping out of her skintight dress. She's been waiting five whole years for this family reunion with you – your son is a dud, but you're such a stud! Soon this cheating wife fucks your big cock. Next, your male connector get plugged into her rear port. Finally, you shift to classic missionary before cumming inside her! What if she gets pregnant? No worries, it's normal for her offspring to look like granddad!
Even More Cheating-Wife VR Porn
Of course, you can be a single mother or a married woman who's not a mom, but often MILFs are indeed married moms or at least stepmoms. So I suggest checking out my Wanna Have VR Sex With a MILF for some terrific sites in the mature/MILF virtual porn niche!