I don't discriminate when it comes to women's breasts – big or small, real or fake – I love them all. Still, there's something magical about discovering a slim cutie who's been genetically blessed with a sizeable pair of supple juggs. This big-boobs skinny-body combo is what I consider my porn unicorn – or uniporn. And busty all-natural beauty Mila Azul just happens to be one of these mythological creatures. 
As Terri Hatcher's character proclaims before storming out on Jerry in the Seinfeld episode "The Implant" because he suggested her boobs were fake, "They're real and they're spectacular!" 
It's impossible for us to see those nice big round tits in the flesh. Even if Mila was down with it, just getting everyone to her native Ukraine would be a logistical nightmare! Not to mention the cost of the airfare. Still, we can all experience the next best thing: immersive Mila Azul VR porn scenes.
"A Day With Mila Azul"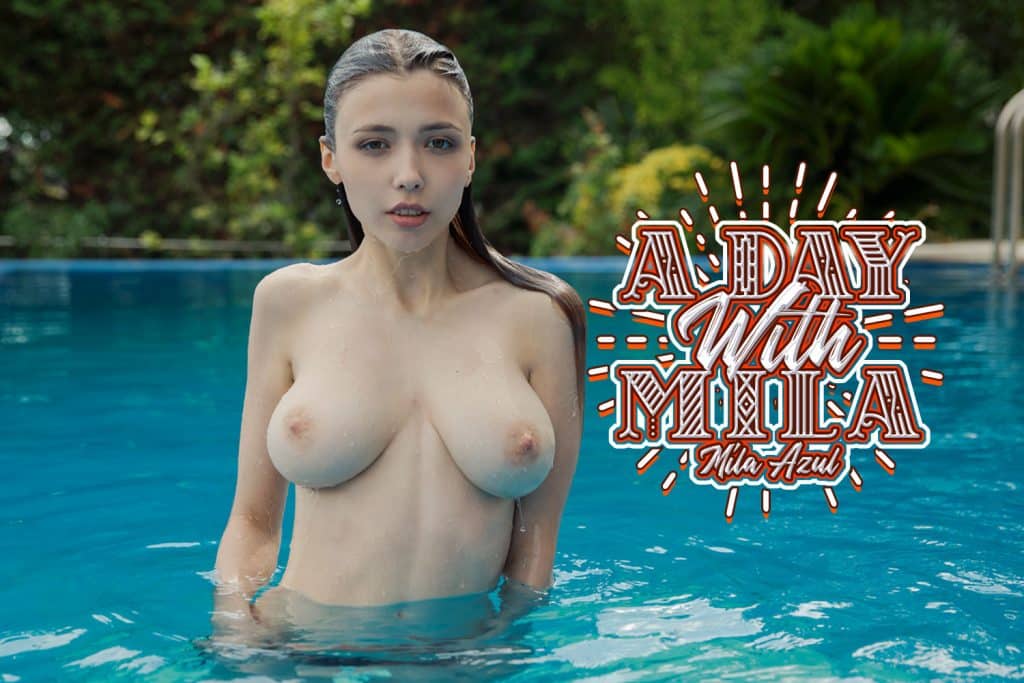 Who wouldn't want to spend a day with a skinny teen with big boobs? And in the case of Mila Azul, she's not going to drag you all over town doing boring errands. She prefers to spend her time lounging around the house in a lacy black teddy as you'll see in this scene from Badoink VR. Though she's not opposed to getting some fresh air either as the scene opens with her taking the sun on the balcony of her villa. 
Don't worry, she doesn't burn her milky white tits, she just drinks in enough sun to give her skin the hue of a warm chai latte. She then leads you into the bedroom before plopping down on the bed and popping her juggs out, then she fingers her shaved pussy. She thrusts her pelvis in the air, so can you imagine she's riding you, and also bounces her boobs in your face. 
"Perfect 10"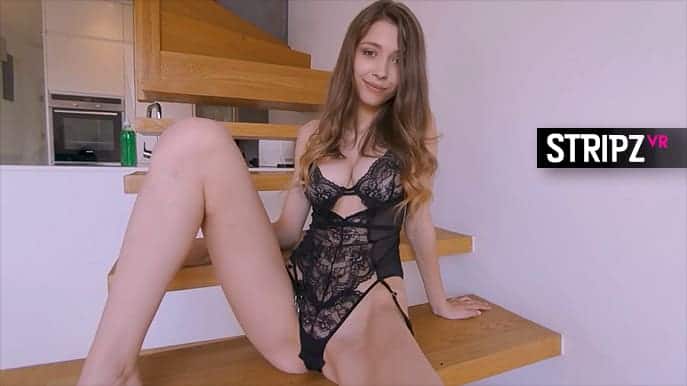 Maybe it's just me, but there's something sexy about a masturbation video shot on a flight of stairs. I can't explain it, though once you see this next scene on Sex Like Real, which I think of as Mila Azul's stairway to heaven solo, you'll agree that it works on so many levels (pun intended). It's nice that she's wearing the same lingerie as she did in the last video that shows off her big tits and skinny waist making her a perfect 10!
The encounter happens in a chic home with a floating staircase – she's perched on the lower step jutting from the wall. And this girl really knows how to tease you! She goes through a number of poses while looking right at you with her sexy bedroom eyes. She even does that classic move where she uses her arms to create cleavage. Then, the boobs come out and soon enough, you get to see Mila Azul naked and masturbating. It all ends with her heading upstairs with you to the bedroom!
"Lucid Dreams"
I'm starting to think that Mila's addiction to black lace teddies is out of control! At least this time around, she's not wearing the same one. Still, this little lady knows what looks good on her and who are we to judge? After all, the lacy skin-tight fabric really hugs the curves of this thin girl with big tits perfectly.
Have you ever had one of those lucid dreams where you think you're awake but you're actually still asleep? Well, imagine you've woken up to Mila on your bed. She writhes around in her sexy lingerie, driving you wild and touching herself. Then Mila Azul gets nude! She stands on the bed and bends over for you among other suggestive poses. She ends the show lying on her side and looking over her shoulder, inviting you to slide right in!
Looking For More Thin Busty Babes in VR?
If you're looking for a hot girl like Mila Azul, you need to experience StasyQ VR. The collection is packed with more young busty girls turning you on in teasing softcore videos. But if you want to check out babes with a similar boobs-to-waist ratio who have a little more experience under their cinched-in belts, go for some VR MILF titjobs. You'll be happy you did!