Hey there fanboys and fangirls. In honor of this week's cinematic release of the new Deadpool movie, Deadpool 2, I thought it would be fun to delve into one of my all-time favorite virtual sites VR Cosplay X and bring to your attention their superhot, immersive hardcore scene that features the very sexy and very horny Lady Deadpool, played by none other than the insatiable blonde bombshell Jessa Rhodes!
VRCosplayX Knows Comics
"This site is by far every fanboy's dream – that is, as long as you have a VR device."
Before some of you start firing off angry emails about this re-imagining of the character Deadpool as a sexy pornstar who'll fuck your brains out in a sweet 180° 3D scene, I'd like to point out the character of Wanda Wilson, AKA Lady Deadpool, AKA Boobs, AKA Hot Pants, AKA Lady-D, AKA Deadpool. You know, from the alternate reality of Earth-3010! She was knocked off only a couple of years after her introduction to the Deadpool Killogy, and if you haven't read that series, it's something to put on your to-do list, right after watching VRCosplayX's "Lady Deadpool: A XXX Parody."
Jessa Rhodes is the Merc With a Mouth
In case you didn't know, Jessa Rhodes is no small-time model. This babe is a star and currently ranks number 65 on Pornhub's Pornstar Index. I know that ranking doesn't seem like a big deal, but out of the nearly 14,000 models listed, that puts her well above the top 1%. She's blonde with blue eyes, 5'6", 121 lbs., with a pair of sweet B-cups that'll make you literally reach out and try to gran them. Her sexuality is so hypnotic that'll bring even the most experienced porn hobbyist to their knees. And she really throws herself into this fun virtual cosplay scene, giving a whole new meaning to Deadpool's famous nickname of a "merc with a mouth" (merc=mercenary).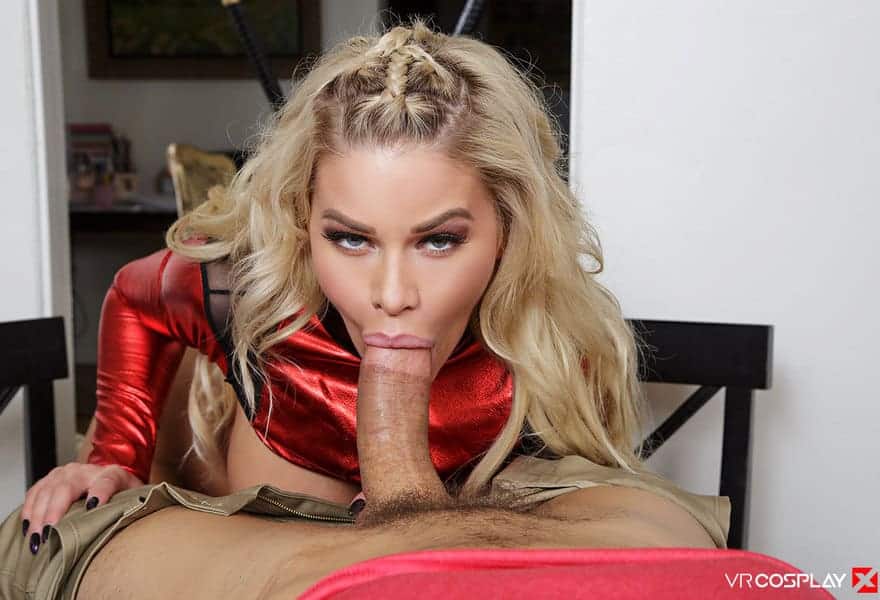 The Immersive Cosplay Scene of Your Dreams
As soon as you start this 28-minute scene with your headset on, you'll have the point of view of a pizza delivery guy. It seems like Lady Deadpool is hungry for something cheesy, but as soon as she lays her eyes on you, she starts craving your sausage! She starts talking all clever, like you'd expect Deadpool to, but when she tells you she doesn't have any money, she decides to put her mouth to good use instead and gives you the blowjob of your life. You also get to nail her missionary style as you watch her big tits bounce, then you do her doggy style and then she'll ride you until the both of your share a mutually orgasmic explosion.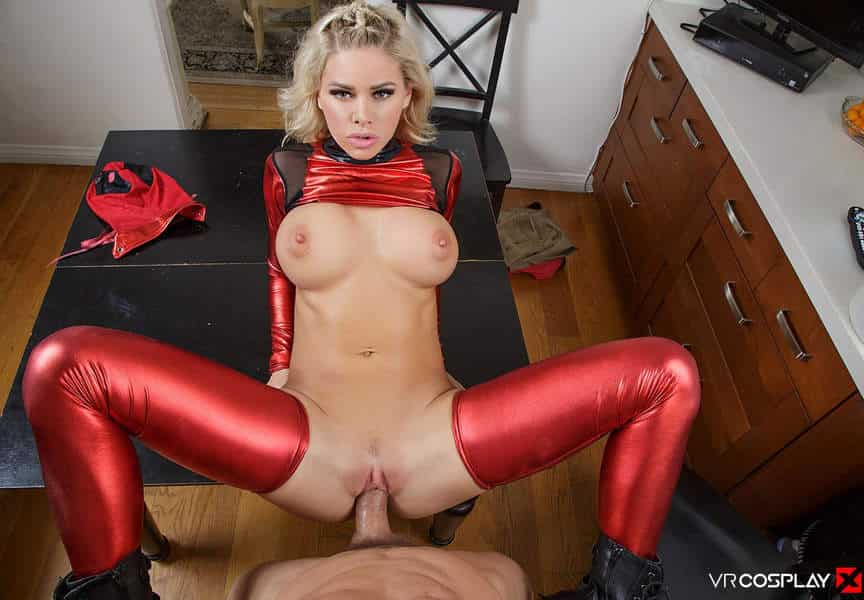 Bang a Variety of Characters From Your Favorite Comics
This isn't the only comic book scene on VRCosplayX. There's a Wonder Woman video, an Avengers one (where you'll get to stick it to none other than the Scarlet Witch), Batgirl, Kitty Pryde from X-Men, as well as characters from World of Warcraft, hot toon babes from your favorite anime series and lots more. This site is by far every fanboy's dream – that is, as long as you have a VR device. Speaking of which, the movies are compatible with Google's Cardboard viewer at either 30fps or 60fps, Samsung's GearVR, HTC VIVE, Oculus Rift, PSVR and the Daydream View. If you don't have a headset yet, check out my reviews of each and get one already!
Share Your Thoughts
So, are you going see the new Deadpool movie in the theatres? If so, are you going to watch this VR cosplay scene before or after? Who in the comic book world would you love to have virtual sex with? Let me know by commenting. Enjoy the movie and check back here weekly for a new blog!