I don't know about you, but sometimes, I feel absolutely zero motivation to hit the gym. I totally planned to have my summer body by now, but that hasn't happened. I tried finding ways to motivate myself and nothing worked. Then I found inspiration in the unlikeliest of places – VR gym porn! Yes, it's a thing and it's awesome. If sexy fitness babes and babes in yoga pants getting fucked in virtual reality don't motivate you to get your ass moving, nothing will! So here are three scenes that'll make you want to pick up a few weights and do some push-ups.
One Tough Knockout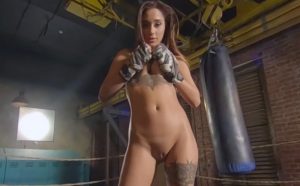 One of the reasons I lose motivation at the gym is that I get bored lifting dumbbells and barbells over and over again. If you feel the same, why not try something a little different, like MMA? Those fighters are always in great shape. Just look at Liya Silver – a babe who's super fit, curvy and has an attitude to match.
This virtual reality scene has you walking around a boxing gym with Liya. She's wearing an incredibly tight outfit with camo hand wraps and she looks like she's ready to do a little sparring with you. But clearly, she's more in the mood to fuck rather than fight, because as soon as you enter the ring with her, she takes her clothes off and covers herself in oil rubbing her big tits and teasing you relentlessly. Don't feel bad if you "tap out" early with this chick!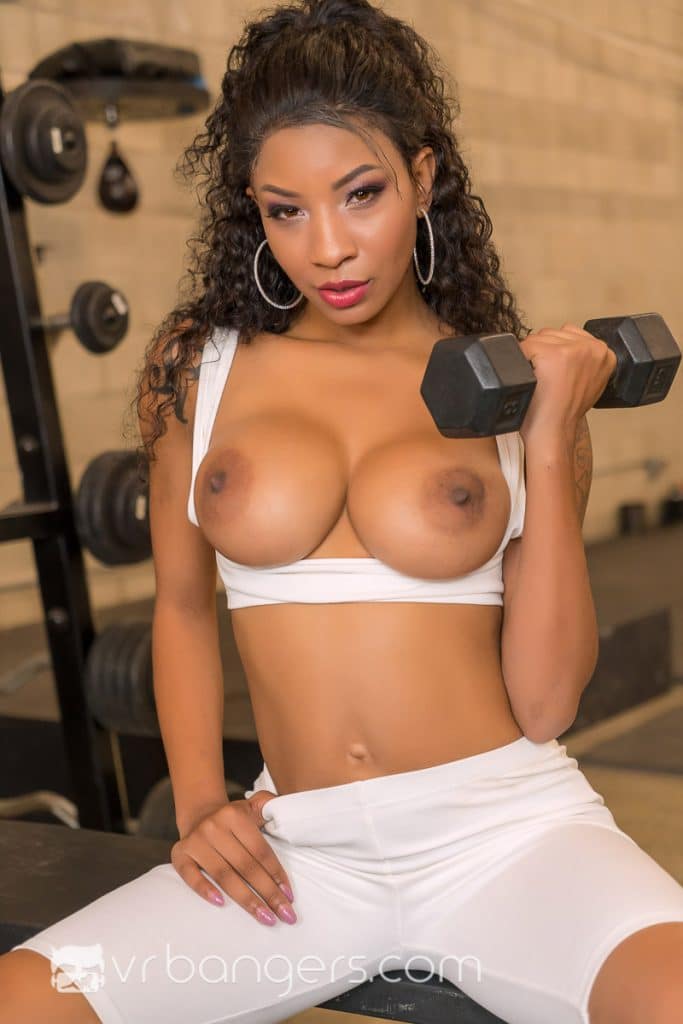 Did you know that you can actually burn about 150 calories when you're having sex? Now, how's that for a workout? And if you're getting to fuck a babe like ebony goddess September Reign, well, that just makes things ten times better. She's wearing tight workout gear while lifting weights and doing squats. And with that sexy curvy ass of hers, how can you resist pulling your cock out and jerking off as you watch? When she turns around and sees you, she immediately gets on her knees to suck you off. Then it's time for a little cardio as she bounces up and down on your dick!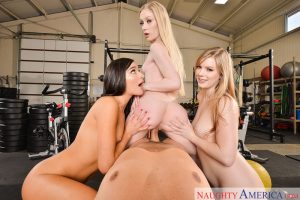 I have to admit, I've never worked out in the nude. But if this scene is to be believed, it leads to a great session because you get to "feel" the movement of fresh air. But what if you were accompanied by three beautiful teens who had sex with each other and then with you while you did some pushups and situps? Well, that would be the best workout in the world and that's exactly what you get to do in this scene. Dolly Leigh, Emily Willis and Emma Starletto are the three babes joining you for this training session. Taking turns fucking each girl while the other two either make out or lick each other all over leads to one of the hottest gym fuck scenes you'll ever see!
Get in Shape with Naked Fitness Babes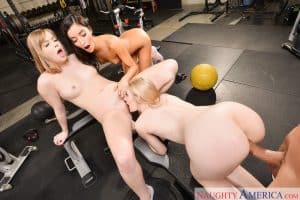 After I watched these three scenes, I hit up my local gym and had the best workout I've had in a long time. Turns out, all you need to do is fuck some fitness babes in VR porn and – voila! – your lack of motivation is suddenly cured. So take the time to get some motivation from these fit hotties and you'll have that summer body in no time!