When it comes to most porn, virtual or traditional, I think more about individual sites than the companies behind them. But Grooby VR is the exception. When Grooby, the leader in trans porn, takes its porn virtual, it's worth looking back at the history of this brand to get a sense of why the future of this VR site seems so bright. 
If you think Grooby sounds like "groovy," that's no accident. Groovy.com was unavailable when the company's founder was shopping for an internet domain in the '90s. What's funnier, though, is how he later started referring to himself as "Steven Grooby" just so he wouldn't have to keep telling the story behind the sitename. 
How Grooby Got Its Groove Back
Steve has always been a believer in diversity, working with transwomen of color and performers at all stages of their gender confirmation journey. He's also encouraged many top performers to direct their own scenes. However, some of his early sitenames used outdated and derogatory language, which was typical of the niche. 
Times began to change, though, and even if those sites got a lot of traffic, using words like "shemale" also had plenty of critics among the trans community and its allies. Without hesitation, Steve rebranded his flagship site Shemale Yum to Grooby Girls. He also renamed his other properties and any new ones were more appropriate from the get-go.
Filling the VR Gap in Trans Porn 
Grooby has always been about evolving and this is why Steve launched GroobyVR in 2017. He realized virtual Tgirls were in short supply and saw a chance to get ahead of the curve. Thanks to his initiative, trans fans can virtually hook up with the hottest TS pornstars. And, as always, his videos boast high production values and creative setups.
Let's take a look at a few of their top-rated scenes.
Luna Love Wants Some Virtual Sugar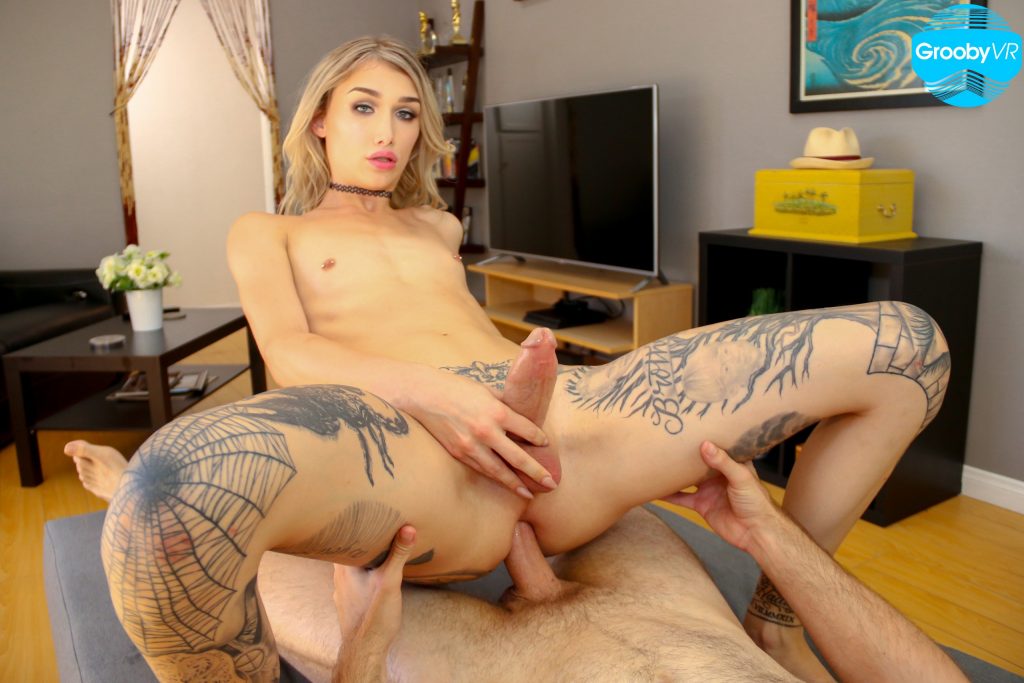 "Cheating With My Neighbor" has tattooed blonde bombshell Luna Love moving in next door to you. When her man leaves her alone, she pops up at your place looking to bone. Being a good neighbor, you let her suck your dick and then you fuck her in a few different positions. Though her guy might not like his sexy Tgirl cheating, you'll be happy with her dropping by for a cup of your sweet stuff anytime. Well-cum to the neighborhood!
Let Daisy Taylor Feel Every Inch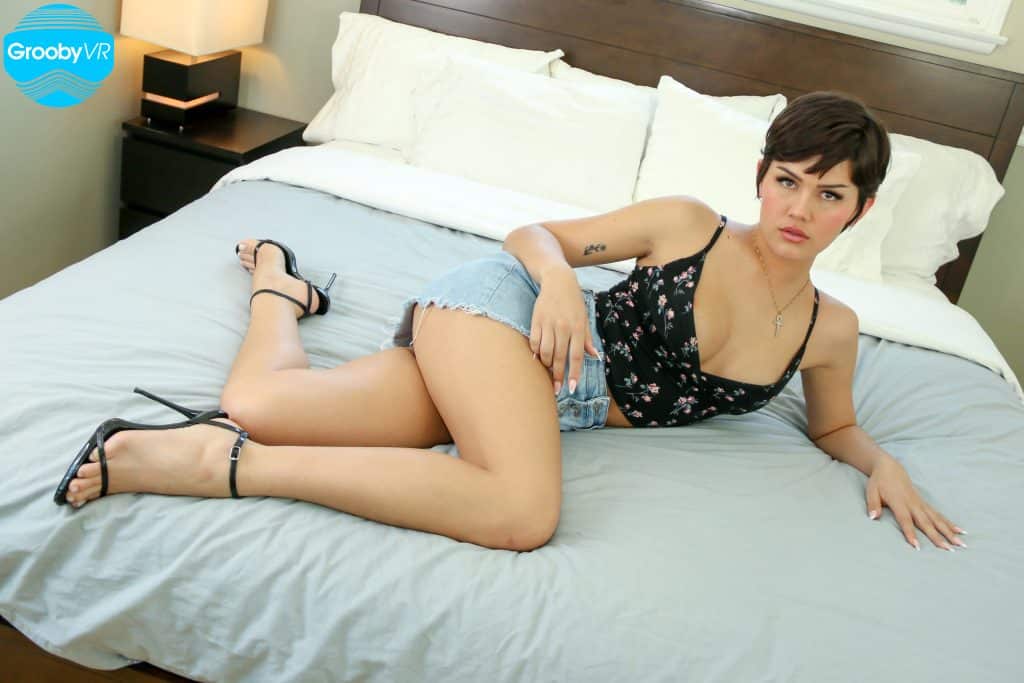 The title "Daisy Taylor Raw" should come with a *spoiler alert* because even before you've got your pants undone, you'll know that Daisy is down to fuck without a condom. But there's more to the story than bareback trans VR porn. Do you know how sometimes it's hard to know if a girl is enjoying herself? Miss Taylor's raging hard-on will reassure you that this sexy power bottom loves riding your dick as much as you love putting it in her. Call it swollen-dick kismet! 
Bend Over For Marcela Herrera's Cock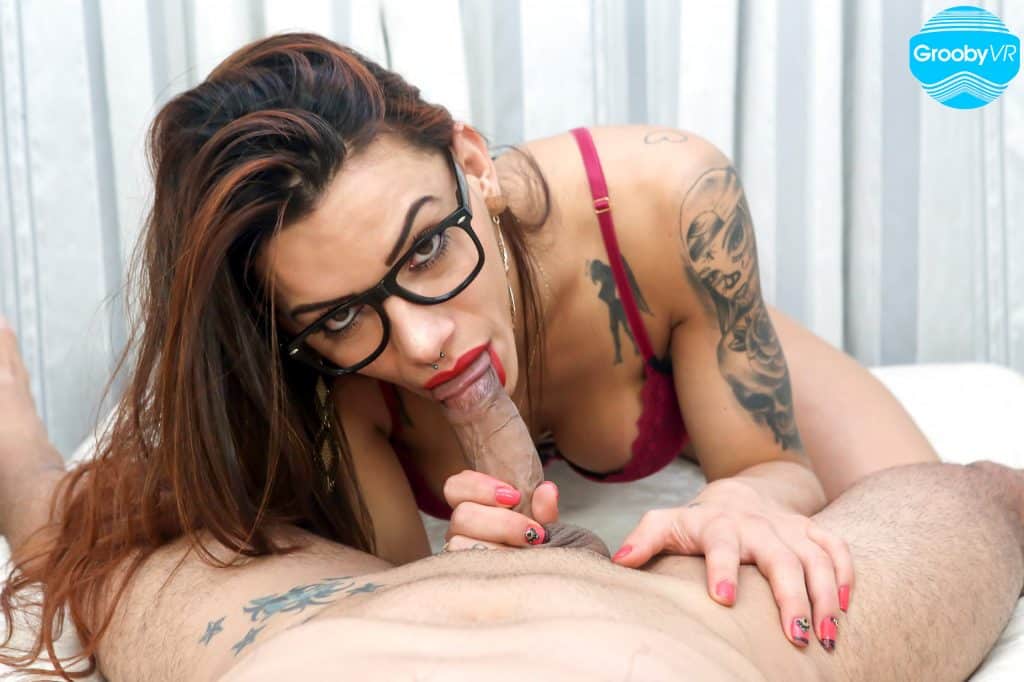 "Stuffed" got made in honor of Thanksgiving 2018. Instead of the bird's cavity getting filled, Marcela Herrera wants to stuff your ass full of her cock. Apparently, it's rare that the tables get turned in such a way on GroobyVR, but you'll be thankful they do. Marcela is a hung Brazilian Tgirl whose curved dick is will tickle your prostate and have you cumming right through to Christmas. Ho, ho, ho!
Be a Voyeur as Venus Lux Jerks Off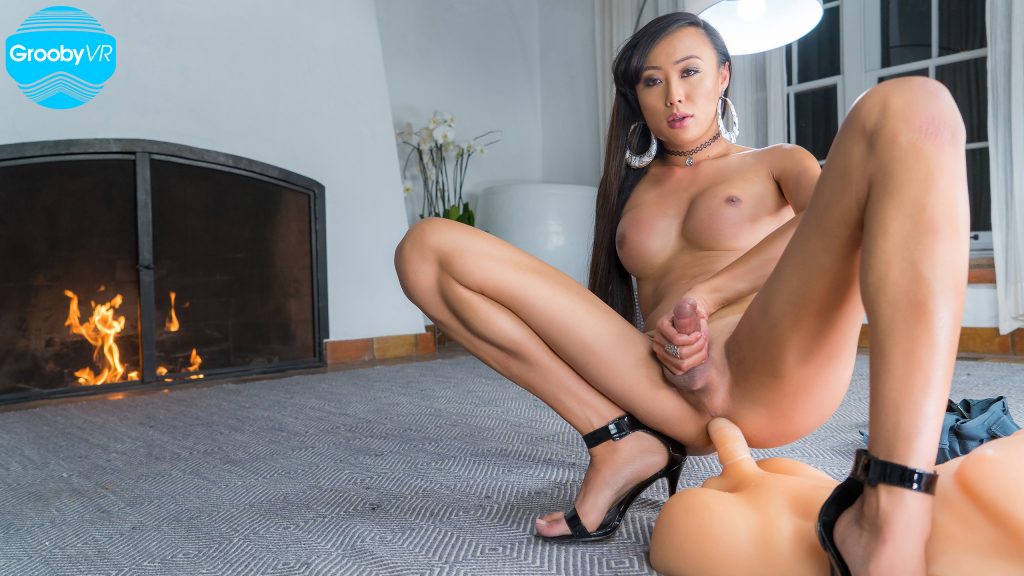 You may be familiar enough with Venus Lux to know that this Asian ladyboy is known as "The Big Show Off" in many circles – or at least in a few circle jerks, maybe? She loves the idea of being watched and she knows your eyes will be glued to the screen while she rides her dildo. You'll feel like you're spying on her having sex – the toy is that realistic. It is attached to a legless torso, but even so, I'd give up a couple of limbs to be with her. 
Explore More Trans VR Porn Sites
The trans category might not be bursting at the seams with websites to join, but all of them are worth checking out – as I mentioned in my blog about the top VR porn sites with transgirls. For example, Virtual Real Trans has well-known talent in up to 5K videos. All of the sites have their pros and cons. Check out my reviews for the lowdown on each.