XVR.chat is a virtual reality cam site where you can immerse yourself in a girl's room and feel like you're really there with her! If you try it out, share your thoughts via email!

Pros
360-degree virtual chat rooms
Cam girls with teledildonics
Cons
Not many girls online
Doesn't work on desktop
Some expensive private shows
Bottom Line
If you've ever dreamt of being inside a cam girl's room with her, XVR.chat is the closest you're going to get. This virtual reality cam site is definitely unique, but unfortunately, there are hardly any performers online. But if you're lucky enough to find some girls to chat with, you'll have a lot of fun interacting with them in a 360-degree virtual cam room. Also, private and group shows are a bit on the expensive side.
My Full XVR.chat Review
Meet Cam Girls in Virtual Reality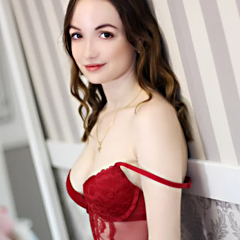 Today, we're looking at the fifth entry in the VR Sex Cams category. I have to admit, I'm still surprised when new sites like XVR.chat come around, because I'm not totally convinced that virtual reality live cams are on an upward trajectory. That's because a lot of sites I've reviewed suffer from a lack of girls. Well, XVR.chat has the same issues. But there's still some positives that I want to talk to you about, so let's get to it!
How Does it Work?
First, your phone needs to have the ability to scan a QR code. (You should be able to find a free app on your smartphone's app store.) To begin, click the Connect VR Device button underneath a cam girl's stream. A QR code will pop up - scan it and it should start streaming on your phone. Then slip in into your VR device (a Gear VR or Cardboard) and you're good to go. As of right now, it looks like it's only compatible with smartphones, meaning high-end headsets like Oculus or Vive won't work. Also, it's technically supposed to work on a desktop, but when I tried to explore the site on my laptop, none of the streams loaded.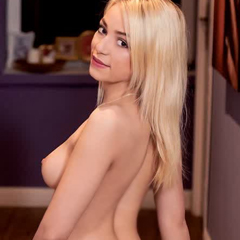 With my Gear VR, I was ready to jump in. I typed the address into my browser, hit enter and… cricket noises. There was nobody online. I waited a few hours, then came back. Still nobody. Finally, late in the afternoon, there were two girls. Throughout my multiple visits, I never saw more than five. It's a bummer that you're not always guaranteed someone to chat with, but your membership does include a few bonus VR scenes from sites like BaDoink VR and VR Cosplay X, so you can browse those while you wait for someone to arrive.
Feel Like You're in a Babe's Bedroom
Here's the good news - if you do get to spend some time with a cam girl, you're in for a good time. You can look around the room or select a position like standing, sitting, lying down, etc. She might walk around you, get on top of you, give you a lapdance and other sexy stuff! And just like any other cam site, you can tip her to activate her smart sex toy (if she's using one), chat with her, check out her profile to get a few stats and pics, slide into her DMs and request a private show. Plus the streams are clear. You get a 360-degree view of her room, binaural audio and HD cams.
Enjoy Private, Group and Spy Shows
I wasn't able to verify the price-per-minute because of the lack of girls online, but most are charging about $5 to $6/minute for a private show, which is a little on the expensive side. You can also try to get a group show going, but most of the performers ask for a minimum contribution of 1000 tokens (roughly $120 USD) and I never saw any other users attempting to contribute. There are also spy shows that cost about $2 to $3/minute. Luckily, there's a session timer that keeps track of your spending. No cam2cam option though.
Here's a tip if you want more attention from a cam girl. XVR.chat is one of the only sites I've ever seen where you actually have the option to "flash your token balance." Now, obviously, if you only have a handful of tokens she probably won't care. But I had over 1000 when I met one particular gal and as soon I used the feature, she was all over me!
Functional User Interface
You'll appreciate the clean interface. The thumbnails are pretty informative in that you can see a preview of the performer, how many people are watching her, how long she's been online and which languages she speaks. You can also choose from a few categories - females, males, couples and trans - but the only one that was ever populated during my visits was Females. During a chat, you can send flirtatious emojis to the girls too.
An Interesting Entry in the VR Sex Cams Category
The concept of XVR.chat is, in theory, unique and somewhat original. It's as close as you'll ever get to actually being inside a room with a cam girl and having virtual sex with her. Unfortunately, you'll have to be persistent about checking the site to see if anyone is online - and even when there is, you won't have much variety to choose from. But hey, if you're lucky enough to get some alone time with a babe, you're in for an immersive live cam experience.
Click Here To Visit Website
Similar VR Sex Cams

If you love chatting with pretty girls on live cam sites, then it's time to take your experience to the next level! Meet and talk to sexy babes in virtual reality, right here on Strip Chat VR.

CamSoda was already one of the world's largest live cam sites. They've got a great platform and a huge roster of sexy models. CamSodaVR has become a whole other sexy beast.
Get Exclusive Email Offers
Deals, free tokens & minutes for the best VR cams!

You love live cam shows, but have you tried a VR show yet? If you've got a headset, then head to Cam4VR and enjoy interacting with models in 180° stereoscopic 3D.

Take live sex chat to the next level with XVR.chat. You'll be able to get up close and personal in virtual reality with beautiful cam girls that are waiting for you to come and meet them.