Virtual reality continues to soar in popularity and if you haven't signed on yet then check out the site I'm reviewing today, Virtual Reality 4 Porn. It's got lots of free VR porn. Write me an email sometime.

Pros
Daily updates
Access to free VR clips
Cons
Streaming only
Not suited for Oculus or VIVE users
Bottom Line
The purpose of this site is to have various clips from premium VR paysites all in one location so that you don't have to keep going back and forth between different sites trying to figure out which ones you like best. Everything's 100% free and there are no faults or bugs, but I wouldn't recommend this site to you if you're an Oculus or VIVE user. If you own a Cardboard, Gear VR or other smartphone-based viewer, then I think you should definitely give it a try.
My Full Virtual Reality 4 Porn Review
Free Porn Clips!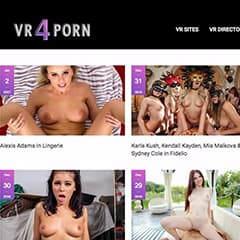 Welcome to Virtual Reality 4 Porn. What a time to be alive, I still can't get over it! Not only is porn transforming right before our very eyes, but there's free virtual reality porn content for us to sample, which you can in spades, actually, right here. You'll find VR clips (approximate runtime 2 min) from 14 different paysites, the vast majority of which I've already reviewed and you can find them in the Top VR Porn Sites category on my site. So far they've accumulated 346 distinct clips. That's almost 1 per day for a whole year!
Cardboard is King Here
Each page that features a clip also comes with an accompanying small, though very explicit, photo set and there's even a brief list of keyword tags that will help you bring up similar content. In each description you'll see that it's written, "... enjoy this HD teaser in a classic viewer and it's even better playing it on your smartphone cardboard, Samsung Gear VR, Oculus Rift or HTC VIVE." That's only kind of true. While I completely agree that watching a scene on a "classic viewer," by which I'm sure they mean your internet browser, won't hold a candle to the experience you'll have watching through a Cardboard or other smartphone-based headset, it would wasted on a desktop-class unit like the Oculus or VIVE since the clips can't be downloaded or formatted to relay the advanced resolutions that higher-end viewing devices can provide.
Can Sort By Date or Model
Aside from going through the clips by order of release date, you can also filter the content through the Pornstars List, which is the model index. It's actually the only item in the menu that doesn't redirect immediately to another site. The list is of course alphabetically sorted and quite extensive. Clicking on any of the models' names will directly link you to a page full of clips in which they're featured.
Links to More Porn
Here's a heads up, all of the menu options except Pornstars Lists are going to link you to a variety of external sites. For instance, VR Webcams will link to Alice X, considered to be the pioneer of virtual reality live sex cam sites. VR Directory is exactly what is sounds like, an extensive catalogue of virtual reality content, and 4K Porn offers links to porn in that quality. VR Sites is a direct links to 14 paysites. Additionally, I can report that there are no broken links on this site and no pop-up ads or any ads for that matter, anywhere on the site, which is always nice.
You Should Definitely Try it Out!
This isn't one of those tube sites where anyone can willy-nilly upload their own full-length VR content for mass consumption, but rather the purpose of these clips is to immediately link you back to the paysites in hopes that you will purchase a subscription. I'd describe it as being 50% percent review blog and 50% clips site. And there ain't nothing wrong with that. It's all free so go on and have yourself a ball.
Click Here To Visit Website
Similar VR Blogs

VR porn is on the cutting edge of technology and Mobile VR XXX not only provides you with free streaming VR scenes, but there's tons of info on the tech too.

If you're looking for free VR porn and some resources to boot, then Virtual Reality 4 Porn should be your next online stop. Fair warning: All the scenes are streaming-only.
Sign Up and Hear From the Experts
Updates, opinions, and offers from dedicated VR fans just like you.

If you like VR tech then you definitely want to check out Future Of Sex. This is one of the best blogs about the intersection of cutting-edge technology and sexuality.

EVR Porn is like a virtual reality sampler plate at a buffet, where you can "snack" on more VR clips than you can keep track of across a wide variety of hardcore genres.

VR has completely changed the way we watch porn. It's now an immersive experience instead of merely a passing one and there's a lot to be said about this shift on Immersive Porn.

The Oculus Rift was not made with porn in mind, but I'll bet that's what it's mostly being used for. Pornulus Rift is a hentai forum, with free hentai templates for download.