This here is a cool VR tube site that's intended for use with one of the smaller smartphone-based VR headsets. It's called MobileVRXXX and it's got lots of reality porn videos. Send comments via email.

Pros
Streaming VR content
Search engine
Info on VR tech & porn
Cons
Pop-up ads
Can't download the clips
Bottom Line
Mobile VR XXX is an okay tube site for anybody who wants to watch a wide range of hardcore clips from premium VR sites for free. You can't download any of the clips though, only stream them, so it makes me feel like this site isn't intended for the Oculus, PSVR, or VIVE, but rather for Cardboard viewers and other smartphone-based headsets.
My Full Mobile VR XXX Review
You'll Find Content from all the Big Studios Here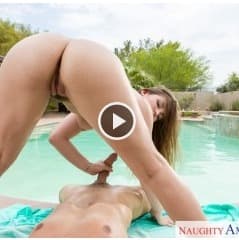 Mobile VR XXX describes itself as a VR porn site that hosts trailers of hot, hardcore VR porn scenes that have been produced by some of the very best VR studios today. Some of these big-name VR studios include Virtual Real Porn, BaDoink VR and Czech VR. You can even find a few full-length scenes that run for about 20 minutes each, but there's not too many. Interspersed in between the clips on the site, you'll no doubt notice some interesting information on VR like various lists and rants on virtual reality.
It's Called that Because It's Mobile-Friendly
One important thing to note is the first part of the name of this site: mobile. What that implies is that the VR clips on this site can be streamed, but not downloaded, which clearly promotes the usage of smartphone-based headsets. That's not to say that if you have an Oculus Rift or HTC VIVE you won't be able to watch it, but the VR effect no doubt will not reach the full potential to which you are already accustomed.
Excellent Layout, Great Search & User Features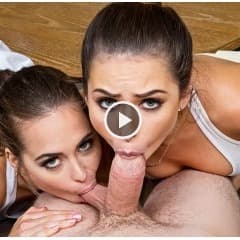 They've also got a a bunch of pretty handy lists that have to do with VR porn and VR tech. For instance there's a list of all the well-known VR headsets available. It's a pretty good list, if I say so myself. You might even come across a few headsets you've never seen before, but trust me when I say that I've checked out all of them them and they're all legit. There's also some blog content regarding how good VR porn is (preaching to the choir) and what the future will look like, as well as detailed descriptions of VR porn sites that they think are the best.
It's Mostly Trailers
Even though MobileVRXXX hosts mostly trailers, they stretch across a wide variety of niches to suit almost any debauched desire that you'd want to see up close in 180° 3D. There is a search engine and even a category list to help you narrow in on what you're looking for. So whether you want to experience an anal scene in VR, or see a big pair of honkin' tits, you'll most likely be able to find it on this site.
Lots of Pop Ups!
One flaw that started to grind my gears while I was surfing this site was the near-constant pop-ups I encountered. These pop-ups are unique, however, in the sense that they weren't impossible-to-close flashing ads for sketchy porn sites, but rather they were MobileVRXXX repeatedly insisting that I share their site and content on social media. In fact, it's the only way to watch the few full videos they host. Sharing VR content on your social media might be a little tricky for some, but you can click around the ad and watch the video without actually having to share anything.
A Pretty Sweet VR Tube Site
In conclusion, MobileVRXXX is a well-put together site and I think it's a great resource for both VR newbies and those are already familiar with the technology. They even have a Twitter feed that I think you should follow so that you can stay up to date with any new content they post.
Click Here To Visit Website
Similar VR Blogs

VR porn is on the cutting edge of technology and Mobile VR XXX not only provides you with free streaming VR scenes, but there's tons of info on the tech too.

If you like VR tech then you definitely want to check out Future Of Sex. This is one of the best blogs about the intersection of cutting-edge technology and sexuality.
Sign Up and Hear From the Experts
Updates, opinions, and offers from dedicated VR fans just like you.

You'll want to keep it locked on VR Porn Cat for all things virtual reality, whether it's the newest sites online, the latest interactive tech or various tips & tricks!

VR Porn Mania is a great source for honest reviews on top virtual reality porn sites. You can also grab exclusive deals and discounts and save up to 60% on monthly memberships!

Check out my personal blog to keep yourself informed on the latest VR tech and gadgets. I also put the spotlight on the best virtual reality sites and porn stars!

If you're looking for free VR porn and some resources to boot, then Virtual Reality 4 Porn should be your next online stop. Fair warning: All the scenes are streaming-only.

VR has completely changed the way we watch porn. It's now an immersive experience instead of merely a passing one and there's a lot to be said about this shift on Immersive Porn.