If you're interested in some fantastic hardcore VR porn, with some fetish and cuckolding thrown into the mix, you're going to love Just VR. If you have any thoughts on it, shoot me an Email!

Pros
180° 4K videos
Exclusive content
Multiple headset compatibility
Bottom Line
Just VR is brought to us by the minds behind Grooby VR, which automatically tells us we're in good hands. The collection is small, but what's available is mindblowing. From solo scenes to cuckolding to steamy massages, these immersive 3D 4K scenes with 180° views are sure to blow your mind and a lot more. All of the major headsets are supported, so you should have no issues watching them.
My Full Just VR Review
Make Your VR Dreams a Reality
The site might be called Just VR to imply that all the scenes are virtual reality ones. But it might also evoke the sense that you're "just" getting plain ol' VR porn. Well, I'm here to tell you that that's far from the truth. The site could just as easily be called Spectacular VR, because that's precisely how I felt about these scenes, which cover a variety of niches like hardcore sex, cuckolding and solo action.
Immerse Yourself in Sexual Fantasies
I had a blast immersing myself in these fantasies. One titled "Intimate Encounter at the Onyx Spa" features the beautiful and curvy Amelia Onyx. She massages your body in a darkly lit parlor, then proceeds to blow you and fuck you. Good times and good views are had by all with this one! But that's not all you get. If you're a cuckold lover, you'll enjoy Larkin Love playing the role of your stepmother and giving you a little JOI action.
Created by an Industry-Known Brand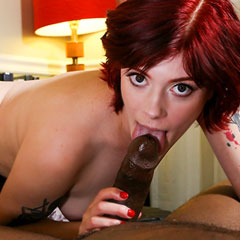 You're in good hands because the folks behind JustVR know what they're doing. Do you recognize the name Grooby? They've been around for years offering some of the best trans porn online. And while there is no transgender porn here, you can rest assured that they put as much care and attention into this site as any of their other sites. However, you'll need to be aware of the fact that right now, Just VR is very small. At the moment, there are only 12 scenes with accompanying photo sets.
Check Out Sharp 4K Quality for Multiple Headsets
For you to feel completely immersed in a virtual porn scene, it needs to hit a couple of checkmarks like having 4K resolution, being in 3D, giving you either 180° or 360° views and binaural audio. Just VR has all of these crossed off their list. They currently offer downloads for the Gear VR, Oculus (which should also work for the Vive), PSVR and smartphone cardboards. If you have any trouble setting yourself up, their device support page is very helpful.
Just VR Keeps Pushing the Envelope
After taking some time to browse the remainder of the site, I checked out their "news" section. While it was quite small at the time, one part caught my attention. It reads, "We are experimenting with different ideas and fetishes. If you have an idea for a scene or a fetish that you haven't seen, then please let us know." I appreciate a site that wants to grow, get better and asks their fans for help. If they keep doing this, Just VR will just keep getting better.
Click Here To Visit Website
Similar MILF VR Porn

Everybody's got their own fantasy girl they beat off to by closing their eyes and thinking about them really hard. Now you can watch them on Fantasy Girl VR with your headset on.

Just VR works with independent adult performers to create a selection of porn genres not available elsewhere, with kinky and authentic virtual reality scenes.
The Best in MILF VR Porn - Sign Up!
Get exclusive email offers on the best MILF VR Porn sites!

Ain't nothing more real than the curves and sexual appetite of an older woman. Experience MILFs up close and personal like you never have before in stunning 180° on MILF VR.