Come one, come all, step right up for some of the biggest ol' bitties, the likes of which you've only seen in your dreams. Big Tits in VR is the adult VR site that I'll be reviewing today and without further ado let's get started. Email me.

Pros
Compatible with multiple devices
Long videos
Cons
No streaming option
Minimal user features
Unclear update schedule
Bottom Line
What can I say, guys? Big tits in VR – do you really need more convincing? Seriously, though, my very professional and intricate analysis of this high tech adult website revealed some definite pros, like long clips and multiple formats for downloads, and some rather nasty negatives like the fact that it doesn't have a lot of content at the moment and nearly no user features of which to speak. Still, they've got big tits and I really enjoyed the videos, so I say go for it.
My Full Big Tits In VR Review
A Promising Site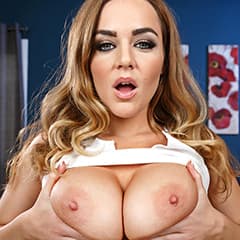 Behold, yet another top hardcore VR category that's given way to the wave of the future, by which of course I mean you can now see superhuge boobs in stereoscopic 180° 3D virtual reality with the recent launch of Big Tits In VR. As exciting as this moment is, it's also kind of bittersweet. See, the site's only been up for about a month and they've only produced five videos so far, so it's not going to have a lot of selection. But in their defense, these ain't no 8 or 12 minute clips. Each video can range from 30 to 40 minutes.
3D Boobs on Multiple Devices
Again, owing to their recent start and low video count, you really shouldn't expect much by way of user features like being able to rate, favorite or even leave comments and, of course, there's no need for an advanced search. Despite this, the site does, I think, more than make up for it when it comes to how versatile they make their videos. There are six different formats for each scene that you can download: GearVR, Oculus LQ & HQ, Smartphone 30 & 60 FPS as well as an option for plain ol' regular 2D. And I'm happy to report that everything worked without a stitch and I didn't have to rename the files or anything like that. I just downloaded them and played through my Oculus and Cardboard viewers – and believe me when I tell you that those gigantic tits were even bigger than I thought once I saw them in 3D.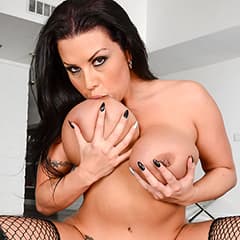 Big Ones, Round Ones, Some as Big as Your Head
And now, a word on the quality and nature of the tits displayed in these videos and by extension the horny women to whom they belong. All five of these ladies definitely have a couple of serious honkers on them and they're 100% natural, I might add. But each pair is as precious and as unique as a double snowflake. They're all white girls, with three MILFs and two coeds and they all fuck like champs. The older ladies have the biggest tatas, which are beginning to lose the battle against gravity and sag just a tad. They're still frickin' hot and you could probably wear yourself out from giving them a good ol' titty fuckin'. They haven't lost their bounce!
I Like Big Boobs. Don't You?
Since there's not a lot of content to begin with, I would've appreciated an update schedule or calendar or something to indicate when new porn is coming my way. Still the tits are huge, the sex is off the chain and the VR effect makes it seem like it's all happening right in front of your face! The site is owned by the same folks who run Naughty America, one the top producers of adult content in the biz. They share the same social media profile so subscribe to their Twitter feed if you haven't already so you'll be sure to get all the latest sexy deets of their upcoming shoots.
Click Here To Visit Website
Similar MILF VR Sites

Ain't nothing more real than the curves and sexual appetite of an older woman. Experience MILFs up close and personal like you never have before in stunning 180° on MILF VR.

Everybody's got their own fantasy girl they beat off to by closing their eyes and thinking about them really hard. Now you can watch them on Fantasy Girl VR with your headset on.
The Best in MILF VR Porn - Sign Up!
Get exclusive email offers on the best MILF VR Porn sites!

Just VR works with independent adult performers to create a selection of porn genres not available elsewhere, with kinky and authentic virtual reality scenes.

Breasts are great and come in all shapes and sizes. If you love to bang a woman with a really large pair, then watch them come to life like never before on Big Tits In VR.