There's a brand-new VR viewer on the market! Well, maybe not entirely new, but the makers of one of the leading virtual reality headsets, the HTC VIVE, have recently released a new and improved version and dubbed it the HTC VIVE Pro. If there was ever any doubt about the direction of VR tech, a new headset is perhaps the most significant news. Here are more need-to-know deets I'm sure you're dying to know!
When Can You Order It?
They released the HTC Vive Pro on April 5, 2018, for $799 and you can order it on Amazon or the official Vive website. The most prominent improvement over the original is the Pro's enhanced resolution. It has two OLED displays with a combined resolution of 2880×1600, compared to the original Vive's resolution of 2160×1200.
You're Going to Love the New Features
[perfectpullquote align="right" bordertop="false" cite="" link="" color="" class="" size=""]"Ergonomics have also improved, with a new strap that better balances the headset and is easier to adjust for glasses-wearers."[/perfectpullquote]
Ergonomics have also improved, with a new strap that better balances the headset and is easier to adjust for glasses-wearers. It's also better at keeping out light, so you stay more immersed in the experience. The Vive Pro's headband will snap into place in two positions: as a standard, straight-behind-the-head fit, and angled 90 degrees upward. Without any instruction or guidance, I was able to grab the Pro while its headband was cocked up, stick it to my face and then pull the headband back to fit around my head. I even intentionally wore my bulkiest glasses and I didn't have to adjust them or struggle with sticking my head in at a perfect angle. Pull to face, snap headband down. Easy.
Audio improvements include better 3D headphones, as well as dual mics that allow for both noise cancellation and Alert Mode and Conversation Mode, so you can still hear your real-world surroundings.
Do You Need a New Computer?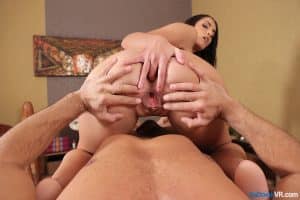 Running the HTC Vive Pro calls for a pretty powerful computer, but nothing too outrageous. The big difference between the original and the Pro is that the Pro no longer supports HDMI, so you need a card with DisplayPort 1.4 capabilities. You can test your PC with a downloadable tool on their site, but in a nutshell, you'll need at least an Intel Core i5-4590 or AMD FX 8350 and at least NVDIA GeForce GTX1060 or AMD Radeon RX480.
With the announcement of the Pro's price and release date, HTC lowered the cost of the original unit to $499. That's an excellent price for the best virtual reality headset on the market today and, more importantly, it comes with a pair of controllers and a copy of Fallout 4 VR, meaning you're ready to go right out of the box. If you don't mind having last-gen technology, this is a fantastic deal.
Is the Vive Upgrade That Big a Deal?
The HTC Vive Pro isn't a massive step forward for the Vive. It's not the Vive 2 – as much as we'd like it to fulfill that role. To that end, it offers minor improvements upon the original. The enhanced resolution makes for better immersive experiences and games and the inclusion of a built-in headset help it shake that DIY feel the original had. We'll need more time to decide if it's the half-step upgrade Vive needs to stay ahead of the Oculus Rift. If nothing else, it should keep the most discerning VR fans tied over until the hardware leaps forward to the next generation.