Cam4VR is the much advertised new branch of Cam4, one of the most popular live cam sites on the Web. They've finally launched their VR page and it's nothing short of exciting. Send me an email sometime.

Pros
Originality - not many VR live cam sites out there
At least six shows daily
Cons
No support for iPhones
Amateur performances
Bottom Line
Cam4VR delivers a pretty decent experience, with little to no technical difficulties present while streaming to my various headsets, with the glaring exception of not supporting iPhones at the moment. The VR quality was great, but the performances were pretty amateur and lacking passion, making the overall experience disappointing.
My Full Cam4 VR Review
Live Cam Shows on a Whole Other Level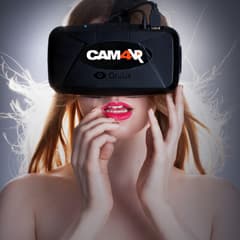 Cam4 is an already-established popular live cam site that streams many different live shows everyday. Recently they've decided to hop on the VR bandwagon and take the intimacy of a live cam show to a whole other level.
At the time of this review Cam4VR had a daily schedule that comprised of six shows separated from one another with 2-hour intervals and all the performers were young (18+) and attractive. While other live cam sites usually have many more shows broadcasting daily, I would still say that this is a fairly good number of daily live cam shows if they've been specifically formatted for VR technologies. While I always demand the best from sites that I pay for, I'm also understanding of specific circumstances such as the technological infancy that virtual reality tech still resides in.
Excellent 3D Effect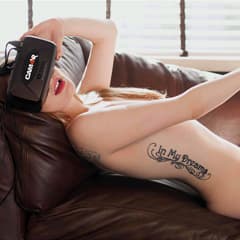 The cam quality was pretty good. I'm a big fan of live cam shows, so watching it in fully-functioning VR mode turned it into a feast for the senses like you wouldn't believe! As usual with many live cam sites, a subscription is free, but you need to purchase their in-house tokens that will allow you to tip the performer in order to directly interact with them. The going rate was pretty much the industry standard, which is a great way to encourage new users to try out their VR page. Later I found out that by signing up for their gold subscription ($19.95 USD), you can get additional perks. These include messaging the performers at no additional cost, no advertisements whatsoever, a full-screen mode and a one-time offer of 100 tokens.
I watched three different shows, one for each VR headset I have and I have to say that I've never seen live cam models seem so uninterested or unenthusiastic in my life. I didn't spend much on the shows simply because I saw that the model was not delivering a quality performance when it was paid for by other viewers. While augmenting their live cam experience with VR technology is great, I really recommend that Cam4VR start a more rigorous vetting process or they're going to get a bad reputation. VR porn isn't so much a unique niche as it as way to enhance the visual experience.
Accessible Across All Major Viewers
Everytime I visit as VR adult paysite, live cam or otherwise, one of the more important features on my checklist has got to be instructions or a FAQ page to help you make sure the VR scenes play the way they're supposed to on whatever device you own. Most sites offer instructions for the three most common headsets: Oculus, Gear VR and Cardboard, but Cam4VR also includes HTC Vive. I don't have a HTC Vive, but I have the first three and after I downloaded the suggested apps and followed their easy-to-read instructions, suffice it to say, they all worked.
Overall Cam4VR seems to be fully functional and able to deliver their product in virtual reality. The actual shows I watched, however, were a different matter. Maybe the models were just having an off day, so I'll be sure to check again sometime real soon.
Click Here To Visit Website
Similar VR Sex Cams

If you love chatting with pretty girls on live cam sites, then it's time to take your experience to the next level! Meet and talk to sexy babes in virtual reality, right here on Strip Chat VR.

CamSoda was already one of the world's largest live cam sites. They've got a great platform and a huge roster of sexy models. CamSodaVR has become a whole other sexy beast.
Get Exclusive Email Offers
Deals, free tokens & minutes for the best VR cams!

You love live cam shows, but have you tried a VR show yet? If you've got a headset, then head to Cam4VR and enjoy interacting with models in 180° stereoscopic 3D.

Take live sex chat to the next level with XVR.chat. You'll be able to get up close and personal in virtual reality with beautiful cam girls that are waiting for you to come and meet them.