If you're into VR porn games, then have I got the best resource page for you. This one is called VR Titties and it's forum for sex games and other VR-related topics. I welcome all emails.

Pros
Active forum
Relevant VR discussion threads
Interesting polls
Bottom Line
VRTitties is an active discussion forum where a wide variety of VR topics, especially sex games, are discussed. You can use this site for the exchange of information, new ideas and even troubleshooting for all of your virtual reality needs.
My Full VR Titties Review
A Forum for True VR Enthusiasts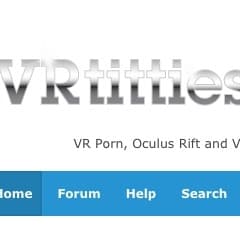 VR Titties is an impressive and active discussion forum where VR enthusiasts from around the world can come together and discuss their love of all things virtual reality related. This is a really handy resource as the members here are really on the cutting edge of new developments, as they share information with one another and learn from one another. It's free to join and there's in fact nothing to buy or sell here, so if I were you I'd definitely sign up and and peek into one of the discussion threads that you're sure to find interesting.
There are many categories of discussion on this forum, but by far the one with the most number of posts and threads is the VR Porn Games category. There you'll find impassioned posts by members regarding their favorite 3D sex game, the latest updates, bugs, troubleshooting, etc. There's even interesting polls that member can take part in that I found very enlightening and informative, as they revealed products and trends that are favored by dedicated fans and real enthusiasts.
Check Out Their VR Game!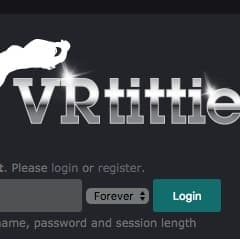 Actually, it didn't take me long to figure out that this is a forum created by VR porn game designers. There is in fact a VRTitties game that the team is developing. A link to their Patreon fundraiser page is placed in a rather inconspicuous location as a small 3D cartoon graphic at the bottom right-hand corner of the page. The game is still in development and they are still continuing to collect donations. Anyone can download the latest version of their game for a minimum pledge of $1. I wish them the best of luck.
The second largest category of discussion is about good ol' VR porn. Here members discuss the latest porn releases, issues with headsets, which studio is making the best content, and new and favorite starlets in the business. There are also a few threads for troubleshooting. There are, however, no trailers or scenes for you to watch.
VR Game Design, Sales, Troubleshooting & Teledildonics
Other category topics have to do with discussions for and by VR porn game designers, which is an invaluable resource if you're thinking about making your own 3D sex game. Plus there are other categories like talking about retail sales, video troubleshooting, teledildonics and a pretty useful Q&A board.
So that's pretty much it for VR Titties. I have to admit I really liked this site. Not only because it's well organized, but also because of the level of interest and information that members seem to have and are willing to share with one another. There's a Twitter feed and a pretty cool Youtube video of some of the aforementioned game footage. This video shows how the game has been specifically designed with the HTC Vive's controllers in mind. It's almost uncanny how realistically the controller movements can mimic hand functions in a VR game. Truly exciting stuff.
Click Here To Visit Website
Similar VR Porn Resources

Forums are a great way to learn about other people's opinions on topics that interest you. The forums on VR Titties are all about VR porn and related topics.

While you're resting in between VR scenes you'll probably enjoy the literature on VirtualRealityReporter. This blog documents the latest developments in the VR world and more.
Sign Up and Hear From the Experts
Updates, opinions, and offers from VR pros.
TOS | 2257 | DMCA | Privacy Policy | Blog | © 2018 VR Porn Sites - All Rights Reserved.
Get deals, updates, and info on the best VR porn sites - Straight to your inbox!