The teen and MILF pornstars on Real Jam VR are super hot and will have you feeling all gooey inside as you virtually fuck them in sharp 5K videos. Give it a shot and then email me your thoughts!

Pros
Dozens of 5K videos
Useful VR help section
Easy streaming via a free app
Cons
No recommended sitting positions
Bottom Line
Real Jam VR is another one to add to the list of great VR porn sites I've checked out, from the immersive 5K videos to the gorgeous pornstars. I used my Oculus Quest to take in the 180-degree surroundings because I wanted to experience it on a wireless headset. I was often having to switch positions, so I think I made the right call there. And whether I was downloading or streaming the scenes, they looked sharp and there are specific downloads for every headset, from low-end to high-end ones. So if you're ready to virtually get it on with your favorite teen and MILF pornstars, you can't go wrong with a membership.
My Full Real Jam VR Review
Bang Hot Pornstars in VR Porn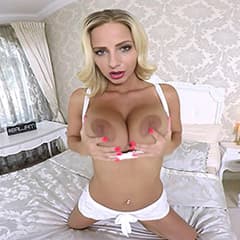 If you're a musician, Real Jam VR might sound like a virtual reality site where you can jam with other musicians from around the world. Actually, that's a good idea. Excuse me while I trademark the design. Okay, kidding aside, this is something way better, because here you can virtually fuck that hottie at the gym, your horny coworker, your smoking-hot stepsister and so much more.
As soon as I landed on RealJamVR, I felt like I was in a candy store! The thumbnails were bright and colorful, with the girls front and center. Did I want to bang my blue-haired doctor, Jewelz Blu, who's prescribed a healthy dose of blowjob to cure me of my sickness? Or maybe I wanted to fuck my girlfriend's hot sister, Shay Evans, in secret. Either way, I couldn't wait to start exploring this collection of 100+ POV scenes.
5K Videos on the Oculus Quest
Alright, enough browsing, time to get to the good stuff! I downloaded a few videos to my Oculus Quest because the scenes had me standing and sitting for different sexual positions, so I wanted to use a wireless headset to ensure I could switch positions easily. And I was right to do that because the scenes change up a lot, from missionary to standing to side sitting, etc. Giving some recommended sitting positions would be nice. I'd like to see them add that eventually.
These videos looked so real I forgot I was wearing a headset and lost track of time! Shot in 5K and running at 60fps, each one was smooth and the wide field of view ensured I could look around and see as much of my 180° surroundings as possible. Also, I'm not sure if this was my imagination, but any video with a more fantasy element to it, like cosplay, had a glossy look to it. It felt like I was in a dream. Either way, I thought it was a neat touch.
Head-tracking was perfect, so I could look around freely with minimal latency. I spent hours enjoying the content and never experienced VR sickness. And thanks to the directional audio, when one of these sexy girls leaned in to kiss me, I was enveloped in the sound of her wet kisses, adding that extra level of realism that sent chills down my spine.
Should I Download or Stream?
Downloading is usually my preferred method of watching a VR porn scene to avoid the potential lag and buffering issues that come with streaming. But I never encountered those issues with Real Jam VR's content. They recommend using the free Deo VR app for streaming - so that's what I did. It had the same intensity as a downloaded video, with the exception that it was only streaming at 4K resolution max. I barely noticed the difference though.
High-Efficiency Coding for All Headsets
Every video has downloads for the most popular headsets. I used my Quest because I wanted something lightweight and wireless, but also something that could run a 5K video. If you're using a lower-end device, like a basic cardboard headset with your smartphone, it won't be able to power a 5K video, but there are downloads with specific specifications for each device. If you need help, their How To Watch page has step-by-step instructions on how to stream and download a video on any headset.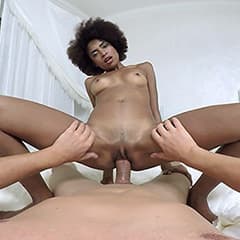 RealJamVR is the first site I've seen to offer HEVC and AVC downloads. Why should you care about that? In a nutshell, these are how the videos are encoded. AVC (advanced video coding) was the norm for years, but there's been a gradual shift to HEVC (high-efficiency video compression), which doubles the video quality at half the bitrate, meaning smaller sized files without sacrificing quality. How cool is that? I'm looking forward to more VR sites adopting this.
Feel the Real Jam VR Experience
Real Jam VR is going to have you rocking out with your cock out - literally! They hit all the checkmarks in my book - hot babes, immersive 3D videos, a growing collection of content and compatibility with all the best headsets. I found myself wanting to re-watch the scenes over and over again. Some are over an hour long and I was noticing different things each time, like the polish on a girl's toenails to something simple like a nice painting in the background. So if you're looking to either join your first VR porn site or add a new one to your collection, you can't go wrong with this one.
Click Here To Visit Website
Similar Babes VR

Virtual X Porn has a roster of European models who just can't seem to get enough sex. So strap on your VR goggles and you can have a crack at them too!

Find yourself right in the middle of the action as the gorgeous girls on Stripz VR put on sensual and arousing stripteases for you in virtual reality. Reach out and try to touch them!
Sign Up Today!
Get exclusive email offers and find your next fav VR beauty.

Wanna hit the clubs tonight? Well, keep in mind the dress code, plus you gotta pay cover, etc. Why not just stay in and go to VR Clubz instead? You'll get lucky every time.

If you've got a thing for amateur lesbians and you own a VR headset, this site was made for you. These girls love fooling around and you'll love watching them in 180° stereoscopic 3D.

Look around 180 degrees and experience beautiful babes in lesbian and straight porn. On Real Jam VR, it's all filmed POV to put you right in the middle of the virtual reality action.

StasyQVR brings you premium high-quality erotica. These women look stunning in 4K 60fps videos. The locations are high-end and you'll have a fantastic view as girls strip and tease.

Masturbation is an intimate experience between a woman and her body. On this VR site, they want to share that intimacy with you. Enter a virtual world where babes cum in 3D.