Today I'll be conducting a review of yet another dedicated virtual reality tube site, VRPornVideos. Visiting VR tube sites is great because of all the free virtual reality porn videos you can watch. Email me your comments.

Pros
Can stream using a Cardboard device
Cons
Very few videos
Short clips
Lots of ads and pop-ups
Bottom Line
Without fear of exaggerating I have to say that I could not be more disappointed in a tube site than I was with VRPornVideos. It very obviously looks like it was put together in a slapdash manner, providing a minimal amount of scenes and basically nothing else worth mentioning. A total waste of time if you ask me.
My Full VR Porn Videos Review
Not All Tube Sites Are Made Equal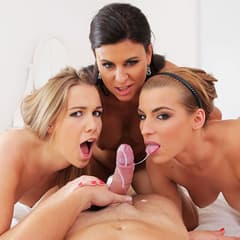 In my humble yet expert opinion I think that any site, tube or paysite, that's worth its salt needs to have a larger video count than what I saw at the time of my review. At this point in time I would only excuse a VR paysite for having that low a count if they were brand-spanking new and only if they had unique content.
Different Resolutions are for Different Devices
These scenes will play, but only on a very basic player that only has options to change the resolution to suit LQ and HQ Smartphones, Gear and Oculus devices. But since there's no download option I wasn't able to view it on my Oculus anyway. Playing the scene on my Smartphone and through my Cardboard headset did in fact produce a 3D effect, but not a very good one.
It's Mostly Scenes from BaDoinkVR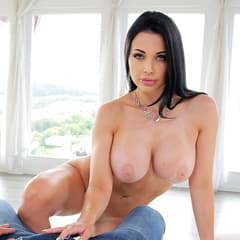 There is in fact a big blue download button on top of the player, but clicking on it redirects you to BaDoink VR. This is actually true for all the scenes, so it's safe to say that VRPornVideos is a tube site that features only VR scenes from BaDoink. The site has several links that redirect to BaDoink VR in fact, including a promotion for a free VR headset as well as three other ads.
My interested was piqued when I noticed that there was a comments tab, but, surprise, surprise, the text under the tab read that the comments section is "temporarily closed" and to create an account if you want to post some. There is of course no option to make an account. VRPornVideos does at least have one functioning feature, which is to share these scenes on no less than 13 social media platforms. It goes without saying that they couldn't pay me enough to share these scenes. I couldn't in good conscience have my unsuspecting fans and friends come back to this poor excuse for a tube site.
Who Are You to Pass Up Free VR!
There isn't really much to say about this site as reviewing it was a bit boring. There are descriptions of their compatible headsets (Gear VR, Cardboard Goggles and Oculus Rift) at least and a rather lengthy primer on virtual reality porn, but that's about it. By now I wished I hadn't wasted my time reviewing this site, but then I remembered that the reason I do it is so you don't have to! Maybe the site creators will update and improve it in time. Until then I can't recommend this site when there are so many other good ones on the Net to try out.
Click Here To Visit Website
Similar VR Tubes

Everybody likes to watch adult VR, but not everybody likes having to pay for it. That's why there's tons of free virtual scenes for you to stream on XHamster VR.

Pornhub is the world's leading tube site and they wouldn't have gotten that prestigious title if they overlooked VR porn. They're hosting 1000's of scenes and they're all free.
Sign Up for Free VR Porn!
I'll send you updates and deals from the best VR tubes.

Somebody's got to write the folks at XVideosVR a thank-you note for making 100's of VR scenes available for free. It's no-strings-attached, so what are you waiting for?

Laid Hub is a huge tube site with a large collection of free VR porn that will immerse you in a variety of scenes. They also have tons of 2D videos, so it's the best of both worlds.

Extra, extra, read all about it! Free VR Porn is a tube site where you can watch as much free virtual content as you want! There are no strings attached, so click and get started.

If you're looking for a quality tube site where you can watch hardcore virtual porn, SexVR is the place to be. You'll find clips and full-length scenes from a variety of adult studios.

When you think sumo, you probably think of a Japanese man with a whole lot of weight behind him. VR Sumo is a tube site with a whole lot of adult VR that you can stream for free.

With adult virtual reality being all the rage, PornFoxVR has been filled to the brim with one eye-popping hardcore 3D scene after another that you can stream for free!

One hot virtual reality porn scene after another is what you're guaranteed to find on VR Pornix. But the best part is that it's 100% free and you don't even need to sign up at all.

Porn.com is a much visited adult tube site that's gotten even more popular since adding its very own dedicated VR page. Don't miss out on all these free 180° 3D hardcore scenes!

If you're wondering what you're going to find on VR Porn Videos, I don't think you're paying enough attention. But I'll try to make it clear: free 180° stereoscopic 3D hardcore sex!

I don't know whom I love more. The person who invented virtual reality or the person who made it for adults. Actually, I love whomever made VR Porn's free streaming content!

VRSmash will show you what virtual porn is really like before you take the plunge and sign up to a paysite. Here you'll find adult videos from every major studio and it's all free.
TOS | 2257 | DMCA | Privacy Policy | Blog | © 2018 VR Porn Sites - All Rights Reserved.
Get deals, updates, and info on the best VR porn sites - Straight to your inbox!