On the docket today is a tube site called Free VR Porn. I'm thinking that with a name like that, it might just have loads of free virtual porn. Send me an email sometime.

Pros
Links to free VR content
Animated VR content
Cons
Site does not actually host any videos
Popup ads & misdirects
No user features
Bottom Line
If I were to describe this tube site in just one word, it would have to be: disaster. From the total lack of user features to the popup ads and misdirects, not to mention the fact that the site doesn't host any videos, my whole experience left me with a headache. My recommendation would be to avoid this site completely.
My Full Free VR Porn Review
Not a Very Good First Impression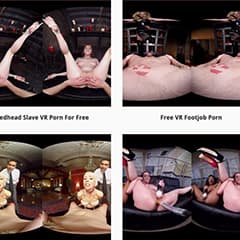 So you're looking for some free VR porn online and you think to yourself, Well that site has "free" in its name, so why not try it out? I'll tell you why not: it sucks! I'm typically not so harsh with my reviews, but when a site is this bad, I feel that it's my duty to inform you, oh honored and noble VR porn fan who reads my reviews, to watch out for poor sites like this. And I want to tell you exactly why...
From the moment you arrive on the landing page, I think any experienced internet user can see that the site is lacking in any kind of design element. It's important not to confuse the layout and color scheme as being minimalist, as there's just clearly been no effort put into it. There's no search bar, no keyword tags and you don't have the ability to rate, comment or favorite anything. There are just three pages full of "scenes" that you can click on, as well as links to VR paysites.
If You Want to Make the Best of It, You Have to Leave the Site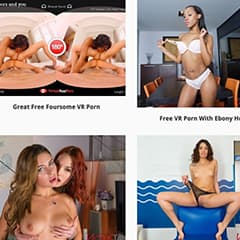 If you're the kind of person who insists on making the best out of a bad situation, there might be something for you on FreeVRPorn. While the site does not actually host any VR content itself, the scenes (of which there are 36) redirect you to the sites where they are actually hosted.
Now, some of the links will work just fine, as in they will redirect to another site like Kink VR or Reddit, where you then have to scan the page to find the link and download the file. But there are also links that completely misdirect you to a different site, usually a pay site, and with those, or even through the links that work, you're probably going to run into a few annoying pop-up ads. You can always try to close these ads and faulty links and go back and try again, but this is essentially the extent of what you can do here.
One unique feature I should comment on is that about a third of the scenes are 3D animated ones that can be watched in VR. Some of them have the same problems discussed earlier, though.
Final Verdict - Avoid Like You Would the Noid
Free VR Porn is supposed to be a VR tube site, where, as its name would suggest, you'd be able to check out some virtual reality porn for free. Typically, these kinds of sites, as I've experienced them, host trailers and clips from paysites as a kind of a preview that you can stream or download. The reality of this site, however, is that the content is on multiple sites and getting to them means almost always encountering popup ads and potentially faulty or misdirected links. If I were you I'd skip this site entirely.
Click Here To Visit Website
Similar VR Tubes

I don't know whom I love more. The person who invented virtual reality or the person who made it for adults. Actually, I love whomever made VR Porn's free streaming content!

Everybody likes to watch adult VR, but not everybody likes having to pay for it. That's why there's tons of free virtual scenes for you to stream on XHamster VR.
Sign Up for Free VR Porn!
I'll send you updates and deals from the best VR tubes.

Pornhub is the world's leading tube site and they wouldn't have gotten that prestigious title if they overlooked VR porn. They're hosting 1000's of scenes and they're all free.

Somebody's got to write the folks at XVideosVR a thank-you note for making 100's of VR scenes available for free. It's no-strings-attached, so what are you waiting for?

Laid Hub is a huge tube site with a large collection of free VR porn that will immerse you in a variety of scenes. They also have tons of 2D videos, so it's the best of both worlds.

Extra, extra, read all about it! Free VR Porn is a tube site where you can watch as much free virtual content as you want! There are no strings attached, so click and get started.

If you're looking for a quality tube site where you can watch hardcore virtual porn, SexVR is the place to be. You'll find clips and full-length scenes from a variety of adult studios.

With adult virtual reality being all the rage, PornFoxVR has been filled to the brim with one eye-popping hardcore 3D scene after another that you can stream for free!

One hot virtual reality porn scene after another is what you're guaranteed to find on VR Pornix. But the best part is that it's 100% free and you don't even need to sign up at all.

VRSmash will show you what virtual porn is really like before you take the plunge and sign up to a paysite. Here you'll find adult videos from every major studio and it's all free.

When you think sumo, you probably think of a Japanese man with a whole lot of weight behind him. VR Sumo is a tube site with a whole lot of adult VR that you can stream for free.

Porn.com is a much visited adult tube site that's gotten even more popular since adding its very own dedicated VR page. Don't miss out on all these free 180° 3D hardcore scenes!