While I totally recommend you jump on the VR bandwagon, I think it's equally important for you have a preview before taking the plunge and check out some free VR porn and that's exactly what EVR Porn can do for you. Email me.

Pros
Free clips straight from the best VR paysites
Good variety of genres
Multiple language options
Cons
Streaming only
Content not optimized for Oculus, VIVE or PSVR
Bottom Line
This is a great site that's collected short VR clips from only the best paysites that are producing this high-tech content today. Instead of having to go from one site to another in order to see trailers, they've all been placed on one site for your convenience. This site is best for users who have a Cardboard or other smartphone-class headset, but it's wasted on Oculus & VIVE users since none of the clips have been or can be optimized to match the advanced capabilities of those devices.
My Full EVR Porn Review
Free Clips! Get Your Free Clips Here!
EVR Porn is where you can find free clips of premium VR porn that have been produced directly by the best studios today. There's currently over 255 clips that can run anywhere from 30 seconds to 2 minutes and new clips are being uploaded every day. You'll find some of the most recognizable and tasty little hotties in the biz like Riley Reid, Mia Malkova and Nicole Aniston. There's no obligation to buy or to sign up to anything, just click on what you like, strap on your headset and enjoy some futuristic smut so hot that it'd blow even George Jetson's mind. There's not a whole lot else to this site, except for being able to change between 20 different languages.
Here, a hard-at-work scribe, not unlike yours truly, has written convincing copy in order to promote online traffic and potentially sales to six select sites, which are without a doubt the leading studios that are producing the best and the most VR porn. Even though the page is clearly labelled "Top 5 List" they've put two sites in the third place category. I guess a Top 6 list doesn't seem as legitimate as a Top 5 one. I'll mention them by name in order of appearance: BaDoinkVR, VirtualRealPorn, NaughtyAmericaVR & RealTeensVR, RealityLovers and finally WankzVR. You can find my reviews of each of those sites in my Top VR Porn Sites category.
Smartphone-Based Headsets Strongly Suggested
This site is mainly geared toward newbies to VR, like people who have eagerly jumped on the virtual reality bandwagon and have at the very least a Cardboard viewer, maybe a GearVR or something like those. The idea is to give you, a prospective new consumer to this continuing rising trend in porn, just a taste of what a full-length scene would be like and to help you choose which site is right for you.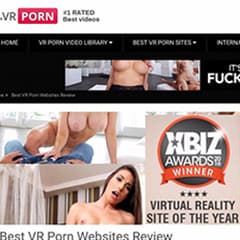 If you're one of the luckier few who already have an Oculus Rift or the HTC Vive all prepped and ready to go, then this site is most likely not going to pique your interest. Not only are the clips not specially formatted to suit the higher resolutions that the desktop-class headsets possess, but also there's no way to download any of these clips so you'll have to stream them. And for one reason or another, the video looked much better when streamed on my Cardboard than when I tried streaming it to my Oculus.
A Good Sampler
If you've already purchased one of the higher-end headsets, then I'm willing to bet you're already ahead of the game when it comes to VR and you've got yourself a subscription to a premium site. If you do not already have a subscription and would like to use EVRPorn for the time being, then you certainly can, just keep in mind that these videos are completely undercutting your device's real technical potential. But if you've got a Cardboard viewer or any other smartphone-based device, then I think the content on this site can accurately give you a taste of what you can expect using those devices, specifically when watching porn in virtual reality.
Click Here To Visit Website
Similar VR Blogs

VR porn is on the cutting edge of technology and Mobile VR XXX not only provides you with free streaming VR scenes, but there's tons of info on the tech too.

If you like VR tech then you definitely want to check out Future Of Sex. This is one of the best blogs about the intersection of cutting-edge technology and sexuality.
Sign Up and Hear From the Experts
Updates, opinions, and offers from dedicated VR fans just like you.

You'll want to keep it locked on VR Porn Cat for all things virtual reality, whether it's the newest sites online, the latest interactive tech or various tips & tricks!

VR Porn Mania is a great source for honest reviews on top virtual reality porn sites. You can also grab exclusive deals and discounts and save up to 60% on monthly memberships!

Check out my personal blog to keep yourself informed on the latest VR tech and gadgets. I also put the spotlight on the best virtual reality sites and porn stars!

If you're looking for free VR porn and some resources to boot, then Virtual Reality 4 Porn should be your next online stop. Fair warning: All the scenes are streaming-only.

VR has completely changed the way we watch porn. It's now an immersive experience instead of merely a passing one and there's a lot to be said about this shift on Immersive Porn.