X Virtual gives you a truly terrifying mix of horror-themed porn. You get to fuck aliens, demons and vampires in virtual reality scenes that will scare you and turn you on. Share your thoughts with me via email!

Pros
Superior 5K resolution
Unique concept
Mobile-friendly interface
Cons
Pricey membership
Unknown update schedule
Bottom Line
X Virtual is for people who want something different. The scenes are horror-themed, so you'll be banging babes dressed up as zombies, demons and ghosts. But they're not just wearing costumes and cheap makeup. The site goes all out with their production values, set designs and terrifying special effects. The scenes are in stunning 5K resolution and even though a membership is a little expensive, fans won't mind paying a little more for something so unique and original.
My Full X Virtual Review
Prepare to Be Frighteningly Turned On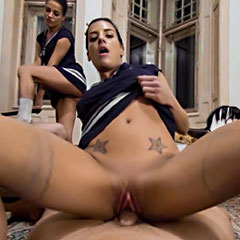 At first glance, XVirtual seems like a pretty basic name for a VR porn site. But it took me mere seconds to realize this site was anything but basic. I wasn't looking at the standard thumbnails of naked girls. I was looking at thumbnails that featured aliens, demons, ghosts, witches and zombies. But don't worry, they're still naked and you still get to fuck them.
Immerse Yourself in Unique, Scary Scenarios
The way these scenes are set up truly plays like a horror movie. I watched one terrifying film that places you in a graveyard as two zombie women begin to inch closer and closer to you. When you think they're about to kill you, they begin sucking your cock. In another, you enter a secret lab with an alien (who happens to have a slim, sexy body and perky tits!) strapped to a table. You're there to free her and fuck her, obviously. These are just some of the insanely unique horror-porn scenes you'll get to immerse yourself in.
More Niches Than Just Horror Porn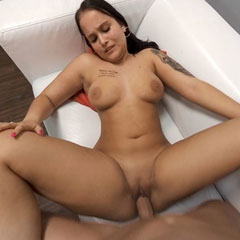 The majority of the scenes are horror-related, but there are a couple that's not. For example, there are a few casting videos with Czech babes. There's also a wild group sex scene that claims to be the biggest group scene ever shot in VR. While I can't confirm or deny this, I can tell you that it involved a lot of people.
Fantastic Production Values and Quality
It's kind of mind-blowing to see the level of production put into these scenes. They could have easily just had a woman dress up in some Halloween costume fucking you on a typical bedroom set, but instead, they go all out with the set design, makeup and storylines. Combine that with the 5K resolution 180° videos with binaural audio and you're in for the time of your life. And while they don't explicitly label it, all of these videos should work with all the major headsets like the Vive, Oculus, Gear VR, etc.
Horror & Porn Fan Will Approve
It must take weeks just to create one scene, so the collection isn't massive, but what's worse is that I'm not sure how often they update because the scenes aren't dated. Still, I have to give them a pass on that simply because of how unique and original the concept is. I have literally never seen a VR horror-porn site with such incredible production values, set designs and high-quality 5K scenes. So while the cost might be a little high, I think it's worth it considering how much effort goes into creating these horror porn masterpieces.
Click Here To Visit Website
Similar Top VR Porn Sites
TOS | 2257 | DMCA | Privacy Policy | Blog | © 2019 VR Porn Sites - All Rights Reserved.
Get deals, updates, and info on the best VR porn sites - Straight to your inbox!