On the docket today is Virtual Reality Bang. There's something about the word "bang" that just pops in my head. But there's more than just that, there be hot VR porn videos in this here site. Send me an email sometime!

Pros
Compatible with all headsets
Good variety of niches
Cons
No search engine
Barely any user features
360° videos a little choppy
Bottom Line
If the whole adult VR industry was a race and Virtual Reality Bang was a runner, it would definitely cross the finish line with flying colors. The variety of niches is too hot to list, so you've got to see it for yourself and then you'll know that I'm not exaggerating. The site's a little light on user features and there's a slight malfunction with the 360° FOV, but it doesn't take away from the whole package, which is all that and a bag of chips. If you didn't catch that last reference, it means I think this is one great virtual porn site!
My Full Virtual Reality Bang Review
Looking For a Variety of Hot Scenes?
I'm sure we can all admit that we're all here because we love VR, but I think it's just as true that we're here 'cause we love porn. Otherwise we'd be busy in a VR flight simulator. Well, the porn here is pretty friggin' hot and hardcore, to say the least. It features gorgeous women who fuck like their ass is on fire and every scene ends in a satisfying cumshot, more often than not on the model's face and sometimes they lick it all up and swallow. There are MILF performers, cosplay, busty babes and much much more that'll make you wanna cream your pants.
Each of these hardcore scenes has an average runtime of 25 minutes and comes with a small photo gallery, but the site is a little light on the features. Don't expect to be able to track your favorites or rate or comment on anything. There's no search, basic or advanced, but there are categories, a model index and a list of tags to help.
Versatile & Effective Video Options
Under most of the scenes you'll notice a series of grey circles, each of which indicates that it's in 3D, UHD and Real Sound and that it's compatible with the VIVE, PSVR, Oculus, GearVR & Cardboard. But when you click on the download button, you're given only three options: Ultra Quality, High Quality and PSVR. This is unusual to say the least. Mostly because it seems to be catering to PSVR users, which is simply a rarity. And if you're wondering, Ultra Quality is going to be for your desktop-class headsets and High Quality for your smartphone-class. You can also stream them all.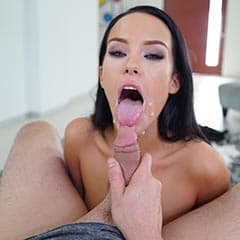 When it comes to the VR effect, the site is on point. You'll notice that they're divided among three categories: 180°, 360° and VR cinema. The last category consists of scenes that can't be download, only be streamed through the on-site player. These are intended to be watched with a Cardboard reader, which I did, and it was, for all intents and purposes, perfect. I downloaded and watched a couple of the 180° videos on my Oculus Rift and that definitely got a 10 out of 10 from me.
A Slight Problem with the 360° FOV
A few of the videos that were shot in 360° had a minor, though noticeable, lag. And by lag I mean that at a few different moments throughout, the video looked choppy, like it was rendering incorrectly. It goes away after a second or two, but it's enough to remind you that you're watching a video and to promptly take you out of the virtual reality fantasy.
Now, believe it or not, I actually prefer my virtual porn to be shot in 180° and not 360°. The reason is that in nearly all of the adult VR content I've watched, I'm usually behind a dude's POV who's either standing up and being serviced, or lying down with a woman or women riding me/him. These kinds of fun activities do not require me to turn around and in the few 360° videos that I've seen in the past, when I did look behind me all I saw was an empty white wall. What's the point of that? Unless it's an orgy scene. And the one orgy scene on this site is shot in 180°. Go figure.
This Virtual Porn Site is Right on Target
Even though the 360° videos had a little technical problem, that doesn't take away from the many different things that VirtualRealityBang does right! They've got a pretty large number of scenes with a fantastic and believable 3D effect that are compatible with every mainstream headset on the market today. They're also pretty savvy when it comes to social media and they post all the latest happenings on their Twitter feed, so be sure to follow them
Click Here To Visit Website
Similar Top VR Porn Sites