Sex Babes VR gives you the chance to dive into 5K VR porn videos with gorgeous teens from the Czech Republic, Hungary and other Eastern European countries. Got any thoughts? Send me an email!

Pros
5K videos
Regular updates
VR help section
Cons
No VR bonus content
Streaming only goes up to 4K
Bottom Line
If you're even remotely interested in virtually fucking European teens, you have to check out Sex Babes VR. Using my Oculus Rift, I experienced incredible 3D videos, with a variety of teens for me to choose from. I almost didn't know where to start! Either way, I used my Rift because it's the more powerful headset and best suited to a 5K VR porn scene, but the site has you covered if you have a different device. Downloading is the way to go here, but I was still able to stream with ease using the Deo VR app, even if the resolution only went up to 4K.
My Full Sex Babes VR Review
Czech Babes in VR Porn Scenes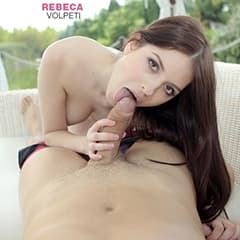 You have to love a sitename like Sex Babes VR, am I right? It tells you exactly what you're getting right off the bat - virtual sex with smoking hot babes. After spending just a few minutes on the site, I can confirm that the girls are gorgeous, so there's no false advertising. But is it any surprise considering they're all horny teens from Hungary and the Czech Republic? What's in the drinking water over there?
Smooth 5K Playback on the Oculus Rift
SexBabesVR has a fantastic collection of 300+ videos! Each is filmed in 180° POV with 60fps that you can download in files formatted for every headset, like the Gear VR, Oculus Rift, PSVR and more. I downloaded a couple to my Oculus Rift and was impressed with the 5K resolution that made everything look sleek and polished. Not only did it feel like I could reach out and touch the girls, but also I swear I could pick up objects in my vicinity. All the videos are recorded with multi-directional audio, meaning you're getting surround sound and it's also why they're best enjoyed with headphones.
Access Downloads for Any Headset
For a while, the scenes were download-only. On the one hand, I prefer to save them and avoid any potential buffering issues, but sometimes I'm lazy and just want to start watching right away. Well, now you have two ways to stream them: your headset's built-in browser or the free Deo VR app. Both options are fine, but the streams only go up to a maximum of 4K, so you're not getting the same immersive experience as you would if you downloaded it.
If you choose to go that route, you'll get multiple options for each headset, ranging from 1920p to Full. The latter gives you the 5K res I was talking about and they have the highest bitrates, which are going to look best on a high-end device like my Rift or HTC Vive. Don't worry, even on lower-end devices like the PSVR or Gear VR, you get that quality, they're just formatted to run at the maximum capability of the headset in question, so they might not look as sharp. Just a heads up - those files can go up to 18GB, so make sure you have the space and bandwidth. And if you have any issues streaming or downloading, check out their help section. It has step-by-step instructions for each device.
Virtually Fuck Hot Euro Teens
The site looks great with bright colors to match the wild personalities of the girls. They're all slender, some with big boobs, others with perfect handfuls, and you'll come across blondes, brunettes and redheads. They're all gorgeous and fuck like rabbits. Hot bodies and pretty faces take on a whole new appeal in VR!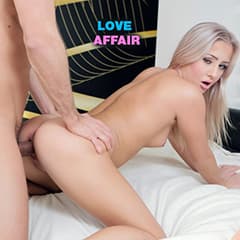 The head-tracking was on point with minimal latency, so if I wanted to look over my shoulder to see her foot dangling while I fucked her missionary, I could. To that point, I had to reposition myself because I was initially sitting down and the scene I was watching was best enjoyed standing up. I'd like to see them eventually add some position recommendations.
Experience Sex Babes VR Today
Sex Babes VR's content has always been a favorite of mine. They stay up to date on the latest trends, whether that means filming in 5K (though I'm slowly starting to see more 6K and even 7K videos on other sites) or adding compatibility for the latest headsets. And they always have the hottest European girls for you to fuck virtually. I honestly had as much fun browsing all the movies as I did watching them! And while you may not get any bonus content, who cares? This collection is big and updating regularly, so it's only going to keep getting better.
Click Here To Visit Website
Similar Top VR Porn Sites