I don't know about you but Sex Babes VR sure sounds sexy. Their 3D porn videos makes this site a great place to get your virtual reality fuck on. Share your thoughts via email.

Pros
180° 3D videos
Exclusive hardcore content
Regular updates
Cons
Not a lot of content
Can't stream
No bonuses
Bottom Line
Sex Babes VR is an outstanding testament to truth in advertising. The videos are full of hot hardcore sex, with superhot babes and it's all in perfect VR for you to totally immersive yourself in. It might not have the highest amount of content at the moment, but they upload new videos every 3 days.
My Full Sex Babes VR Review
Sexy Babes in VR!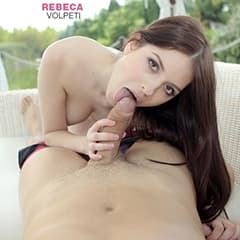 Believe it or not, Sex Babes VR features sexy babes having sexy sex in sexy VR! Launched in September 2016, this site has been producing some terrific porn ever since. There's no overarching theme here, just babes fucking and sucking in stunning quality. While brand new sites can be exciting with fresh themes, faces and content, it also means that their amounts aren't going to be the highest.
The Content - Modest Volume, Decent Selection of Niches
At the time of this review (late December 2016), SexBabesVR has 32 videos, with an average runtime of 20 minutes, which is pretty sweet. They've been uploading new scenes almost every 3 days since their initial launch back in September, with no signs of stopping or slowing down, so there's no reason not to believe that in 6 months time the video count could triple. And you get a decent variety of action, with footjobs, cumshots, doggy style sex, threesomes, voyeur, blowjobs, etc.
Oddly enough, there is no search bar, but you can pull up similar videos using the tags. This means that you can't look for something on your own, which is a little annoying. There is a model index too, so you can quickly pull up all the videos by the same model. They also let you favorite scenes, as well as rate them, but you can't leave comments.
The Talent - Sexy Euro Babes
As for casting, there are currently 21 sexy babes. They're all white and in their 20's, but they hail from a variety of European countries, which does add a bit of an edge to each video. The girls are slender and there are big-boobed ones and small-boobed ones, as well as blondes, brunettes and redheads. They're all super gorgeous and can fuck like rabbits. Hot bodies and pretty cum-covered faces take on a whole new level of appeal once you see it in VR, believe me.
VR Devices & Fees - Effective & Affordable
You'll be happy to know that each video is shot in 180° 3D with 60 FPS that you can download in specially formatted files for your Gear VR (HQ & LQ), Oculus, VIVE or Cardboard (HQ & LQ). You're going to have to download them, since SexBabesVR does not stream their content. I have mixed feelings when it comes to this. On the one hand, I'm lazy, so it's quicker and easier just to stream directly. On the other hand, I believe that streaming VR never produces the same 3D and immersive effect as when you watch a scene that's been specifically formatted for your device.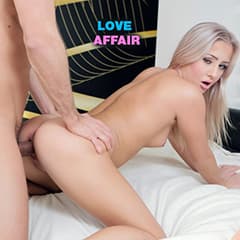 The subscription fees are pretty standard and reasonable. For only $24.95 you can sign up for a whole month and since there's no download limit, you could potentially download all their content immediately. Though, if you like the site, you might want to sign up for the 3-month deal at $19.95/month, especially since the site continues to upload new scenes every few days.
Final Thoughts - A New Favorite
Sex Babes VR is a great site to watch hot, hardcore fucking in high-quality VR. It's got a great layout, decent user features and horny women fucking their brains out for you to enjoy in virtual reality. Even if it doesn't have the largest amount of content, this site is clearly determined to grow and I for one look forward to watching their new releases. You can be alerted when they upload new content by following their Twitter feed. If you're looking for a recommendation, then I can't recommend this site enough.
Click Here To Visit Website
Similar Top VR Porn Sites