Yet another hardcore virtual reality site, FAKings VR is the topic of review . There's nothing I like more than reviewing a new adult VR site, so check out what I've written. Share your comments by email.

Pros
Interactive VR scenes
Mobile-friendly interface
Works with all major headsets
Cons
Flawed 3D effect
Basic site design
Bottom Line
This Spanish based site has a lot going for it, but at the same time their videos aren't the most sophisticated I've ever seen. And by that I'm referring specifically to the 3D effect and field-of-view that make a VR scene a convincing experience. But the models are hot and so is the sex. You should check out this site regardless of what viewer you use, 'cause their scenes are compatible with most of the major ones.
My Full FAKings VR Review
Another Hardcore VR Site!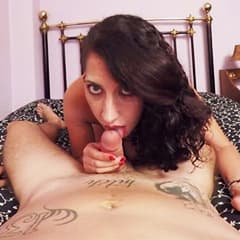 FAKingsVR is a Spanish-language adult virtual reality site and I for one think that diversity is something to celebrate. Upon closer inspection it seems like there's some effort put into the site design, but not a whole lot. After you've seen as many sites as I have, you begin to develop a sort of sixth sense for these things. What gives it away is the overwhelming amount of white background, which is basically akin to an artist having a blank canvas. And that's what we're supposed to be looking at here, people. This isn't smut, but art! Once you log in you'll see that all the scenes are displayed on the landing page by date, but there are other sorting options, as well as categories (they are only in Spanish though).
Sex, Blowjobs & Money Shots
There's a bunch of videos, but as I began to read the dates on these scenes I honestly couldn't make out any semblance of a regular update schedule. I can say though that the actual scenes are pretty hot. These videos consist of hardcore sex featuring the sexiest young women with the cutest faces in fun reality scenarios. Every scene I saw ends with a beautiful money shot on a happy, smiling face. There is a bit of dialogue in the scenes, but I don't habla espanol, so it was all Greek to me.
Compatible With Most Major Headsets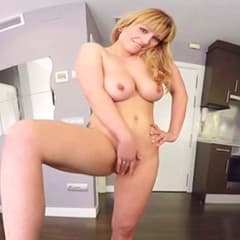 The site and the content are mobile-friendly, mostly because of their on-site player that makes streaming the scenes, especially to mobile headsets like the Cardboard and GearVR, really easy to do. But if you're like me and you're willing to wait a couple of minutes to download the content, I'll let you know that the site is compatible with the Oculus Rift & HTC Vive. And while they haven't listed the OSVR as being compatible I'm sure it's just an oversight, since that open-source headset can run scenes with the same resolutions as the two other desktop-class viewers.
3D Effect Needs to Be Improved
Now, I've seen my fair share of virtual porn by now and I consider myself to be a pretty good judge of what's good and what isn't so good. I don't want to say that these aren't good, but I don't know how else to finish that sentence. I'll elaborate. The 3D effect, which is part and parcel of any immersive experience, looks flatter than most of the adult content I've watched. That's not to say that there's no 3D effect whatsoever, because there is, but the model, who is always at the center of attention of any video, doesn't pop out like I've seen on other sites. Her tits and curves look as if I were watching them on my monitor and that's definitely a letdown.
I will say this for their videos, though - while they lack having a 3D effect, they do come off as a bit more interactive than your standard virtual reality scene because you're not just lying down with an erection the whole time. In these videos, you walk around, sit down and then lie down and that definitely lends to having a believable and immersive 180° experience.
A Good Site with Room for Improvement
So there you have it, folks, the good, the bad and the ugly on FAKingsVR. The site does have a few good things going for it, but it seem like there's also a few technical wrinkles they need to iron out. I've seen plenty of VR sites just like this one where their first videos looked amateurish and then a few months later their new ones had noticeably improved. Speaking for myself, just 'cause the models are so hot, I've got faith that they're going to turn it all around soon. 'Cause it would be a waste of all these models' hard work.
Click Here To Visit Website
Similar Top VR Porn Sites
TOS | 2257 | DMCA | Privacy Policy | Blog | © 2018 VR Porn Sites - All Rights Reserved.
Get deals, updates, and info on the best VR porn sites - Straight to your inbox!