Metaverse XXX is a real diamond in the rough when it comes to VR porn sites. Here you'll find a site that with loads of virtual porn videos that actively promote a sex-positive attitude which I cannot endorse enough. Email me.

Pros
Unique variety of niches
Sex-positive vlogs
Cons
PPV cost is high
Videos are not HD
Bottom Line
Metaverse XXX is way more than just another VR porn site. In fact it's unlike any other porn site I've ever come across. Here, fetishes are commonplace and different orientations and gender identities are the norm. So if you're look to explore new kinds of porn in VR then definitely check it out. Just keep in mind that there is no membership fee and instead you purchase each scene individually, which can add up pretty quickly.
My Full Metaverse XXX Review
SJW VR PORN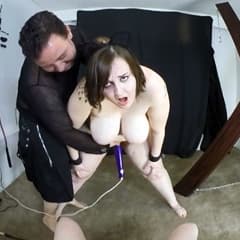 Have you ever wondered what it would be like if sex-positive SJWs (Social Justice Warriors) started their own VR porn company making crazy-hot scenes? Well, you don't have to keep wondering because it's a reality now. MetaverseXXX is definitely unique and it especially stands out when compared to other VR sites I've come across so far. In fact the only part of their site that reminds me of other mainstream VR porn sites is the quality of the VR experience. The few scenes I tried, all of varying lengths, worked perfectly across all of my different headsets including my precious Oculus Rift, the GearVR and my humble, though always effective, Cardboard. The scenes are all shot in perfect 180°, with no discernable visual or audio problems, though I would hesitate to describe it as HD. The quality seemed akin to a home movie, but that's not to say the 3D effect was compromised.
Multiple Different POV
As for the actual content, MetaverseXXX lists its scenes under categories that until now I had never seen before. Some of them include Androgynous POV, Penis POV, Vagina POV and Erotic Education. If you don't know what some of those mean, trust me when I tell you to try them out - you would not have wanted me to ruin the surprise. The purpose behind these atypical categories is to be inclusive of different types of gender identities and sexual orientations as the underlying theme of the site is diversity. These are the times we live in and MetaverseXXX is leading the way as the SJW. Don't let all this PC stuff scare you away, though. These people love sex and they're pretty nasty about it in a really hot way.
Every Niche You Can Think Of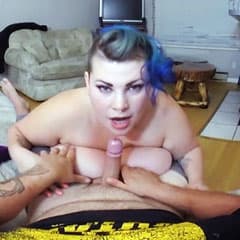 The videos showcase a wide range of sexual acts, from handjobs to massages, BJ scenes, gay guys riding cowgirl style (I guess that would make it cowboy style), threesomes, cum-swallowing... I could go on and on. And the best part is that the main object of attention in a scene could be a young guy, an old guy, and old lady or transwomen. It doesn't matter. The models emit irresistible alternative amateur vibes with plenty of piercings and tattoos. You'll find all body types from thin girls to BBWs, as well as a variety of hair colors, outfits, etc. The layout of the site is pretty good and you can search through the clips using the search bar and/or tags.
In addition to the scenes, the site includes two interesting pages that I think you should check out. The first is their blog, which might not sound super interesting, but the content is really well-written by people who obviously care a great deal about virtual reality technology and its impact on human sexuality and humanity in general. The second page you should check out is "Sex+ metaverse," which is kind of like a series of vlogs that can also be watched in 180°. The topics on this page are mostly on sex and sex positivism. The speakers include not only the performers, but also experts and other sex enthusiasts as they discuss a variety of issues.
No Memberships - It's Pay Per Video
Another aspect of MetaverseXXX that sets it apart is their pricing structure. Essentially, they have no monthly membership fees and instead you pay per individual scene. Most are priced at $3.99, but there are a few that are a little cheaper at $2.99 or $1.99. The scenes can run anywhere from 8 to 30 minutes. This can prove to be either beneficial or a negative, depending on your own personal rate of consumption. But the purpose behind this is again directly inspired by their SJW philosophy. They state: "We firmly believe in equitable, transparent revenue distribution."
If you go through a lot of porn, then you might end up spending a whole lot here. Which means if you want to watch all of them, you're going to spend a few hundred dollars. But if you're the type who can pace yourself and have a particular taste, meaning that you won't just fap off to anything and it has to speak to you, then this site might just be for you. There are no trailers or previews of the videos, but the thumbnails, description and tags will let you know exactly what it is you're buying.
Most Unique VR Site
Being on the cutting edge, they also have an active social media presence, so if you liked their scenes and their overall philosophy, you'd probably also like to follow them on Facebook and Twitter, where they post new information regarding their performers, upcoming shoots and other points of interest. This site might not be for everyone, but it might just show you something you had never before considered and could very well change the way you look at sex and society.
Click Here To Visit Website
Similar Fetish VR

This one's for the fanboys in the crowd. Cosplay takes on a whole new meaning when you watch it in VR. Add hardcore action into the mix and this is your new favorite site!

Ever been to Prague? Save yourself the airfare and check out Czech VR Fetish. The performers are hot Czech babes and they've got videos to suit all of your kinky fetish fantasies.
Get Exclusive Email Offers
Deals, fetish scenes and other awesome deals - FREE!

Want to watch bondage, D/s, spanking, role-playing, strapon sex, ball gags and more in virtual reality? Then it's time to branch out and get off to the kinkiest content on Kink VR.

When women wear stockings they're even sexier than when they're naked. Don't ask why, I'm not a psychologist. Just watch these babes on Stockings VR and you'll see what I mean.

For 20+ years Wasteland has been putting out the hottest fetish and BDSM porn. Now they've got own their own erotic MMO virtual reality game called Wasteland 3D.