A common misconception about VR porn is that it's all the same. As someone who's life revolves around it, I couldn't disagree more! VR sites are just as diverse as any other type of porn, with many distinct niches. But you don't need to pick just one! You may have your favorite already, but maybe you're missing out on a category that's even better suited to you. With these five simple questions, I'll help you discover different types of VR porn that you may have never heard of before. No matter your fetish of choice, one of these sites could become your new favorite!
Do you like exotic beauties?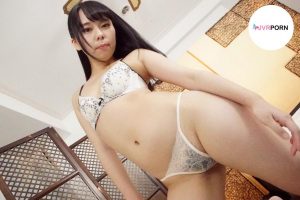 If you answered yes, I have a couple of sites that may interest you. JVR Porn has uncensored Japanese VR porn videos that encompass everything you love about JAV porn but in virtual reality. You get to pretend that it's your dick these beautiful Asian girls are sucking. Sometimes, there are two Japanese teens servicing you, other times you get to watch a schoolgirl strip and then you get to fuck her.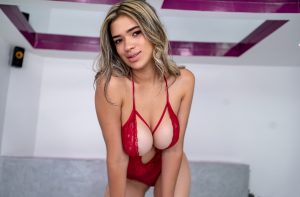 If Asian girls aren't your thing, how about Latinas? VR Latina is filled with fiery babes from South America. These sexy Hispanic girls will show you just how spicy they can be when they're blowing you and showing off their curvy bodies. When you slip your headset on, it'll feel like you're really fucking them and that they're cumming right in front of you. A man can dream!
Do you love watching transgirls in action?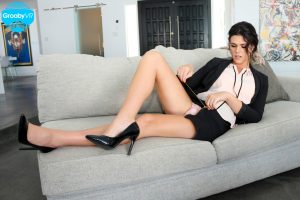 Grooby is a leader in trans porn, so it's no surprise that Grooby VR is just as amazing. These 180° 4K videos feature the hottest Tgirl models from around the world in sexy scenes. They show it all off in immersive 3D videos, where you can watch them stroke themselves while you fuck them.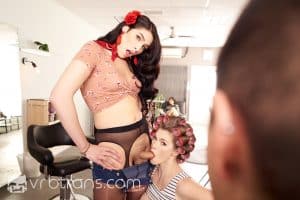 If you're interested in even more TS girls, you can also check out VRB Trans. They call themselves "the world's best virtual reality transsexual porn site" for a reason! Not only can you watch yourself fucking these stunning Tgirls, but you can also watch them hook up with each other, in 4K no less. There are doctor/patient scenes, Tinder dates, sex by the pool and many more steamy scenarios to experience with these transgender pornstars. 
Want to meet other fetishists in 3D games?
Maybe live-action women aren't your thing, so how about a 3D animated babe instead? Red Light Center is an MMOG where you can explore an area based on the infamous Red Light District in Amsterdam, Holland. Once you strap on your headset, you'll get to see the world through the eyes of your avatar and watch some hardcore virtual sex going down right in front of you. 
Another virtual sex option is 3DX Chat, a 3D sex game where you can customize your avatar, then head out to find members to have raunchy cybersex. They don't support VR headsets yet, but it still might be worth checking out for some three-dimensional fun. 
Ever wanted to fuck a fictional character?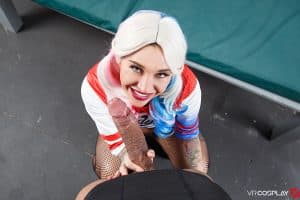 Let's be honest, who hasn't wanted to fuck a fictional character at some point? Whether it was a hentai or anime character or someone from a video game, sometimes cartoons are hot. That's why VR Cosplay X exists. You can bring your fantasies to life and fuck gorgeous girls in cosplay scenes. They have everything from Captain Marvel and Princess Leia to Harley Quinn and Lara Croft.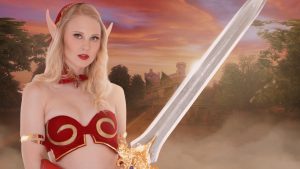 If you're a fan of World of Warcraft, you might be more interested in Whorecraft VR. These virtual reality 3D scenes bring your favorite video game to life with hot babes in medieval cosplay, but it's even better than the real game because you get to fuck the characters!
Do chains and whips excite you? 
Maybe you don't want to waste your time with costumes and instead want something a little more hardcore. Well, then what you're looking for is Kink VR. These 5K 180-degree videos let you play the role of Dom or sub, with flogging, fisting, Femdom and many more kinky categories to choose from.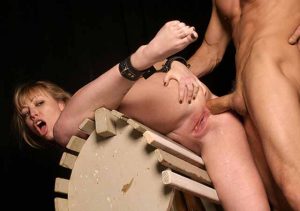 You can also check out Wasteland, a 3D BDSM site with 360° VR scenes. Immerse yourself in a virtual dungeon and watch as gorgeous girls dominate both male and female subs. Enjoy kinky interactive fun with bondage and sex machines. 
Explore the World of VR Porn
No matter what your fetish is, you're bound to love one of these VR porn sites. Whether you're in the mood for cosplay cuties or some spicy Latinas, they've got you covered. Besides these websites, there are many other types of VR ones waiting for you to discover! You never know what you might end up being into.