I often talk about VR porn (obviously) and its various technical aspects, most notably things related to headsets. Today, I want to talk to you about the best way to care for your headset and keep it clean. While relatively inexpensive, they're still an investment. So the best way to take care of your investment is making sure it lasts as long as possible. Here are a few quick tips to follow.
1 . Store It When You're Not Using It
"Your headset can last a very long time if you're consistent with its care and cleaning."
This might be the most obvious tip I can give you, but it's also one of the most important ones and something most people ignore. Imagine I'm screaming this: PUT YOUR HEADSET AWAY! Keep it stored in the box it came in when you're not using it and put it somewhere cool and ventilated, if possible. Yes, I'm fully aware that putting your headset away isn't the most practical thing to do, especially since hooking it up can be time-consuming, but I promise you that it'll last way longer than if you're continually leaving it out, letting it collect dust and possibly getting sun damage.
2. Clean With a Microfiber Cloth and Compressed Air
Most headsets are made with either plastic or fabric, which is great because it means cleaning it is relatively easy. First, do not spray any cleaning products or use chemical wipes like Lysol. These can quickly do severe damage. Instead, use a microfiber cloth to wipe down the surface and the lens and if you really want to use wipes, stick to the non-alcoholic antibacterial ones. Now, even if you do that regularly, it's inevitable that dust, and possibly hair, will get caught in the crevices. Get yourself a can of compressed air. All you have to do is point the nozzle about six inches away from the area you want to clean and squeeze in short bursts.
3. Think About Getting VR Hygiene Masks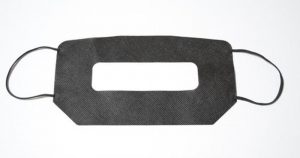 Yes, these exist, and no, they aren't essential, but they're still an extra step in headset care that's worth considering. Human beings naturally have oily skin and depending on the type of game you're playing or porn you're watching, you may even start to sweat. By putting these hygiene masks over your face before putting your headset on, you'll protect the face pad of your headset from absorbing and collecting too much of that oil and sweat. I don't necessarily recommend this as a must-have tool, but if you plan on sharing your headset with a lot of people, this will undoubtedly keep your face pad protected.
4. Keep it Away from Pets and Food (Yes, Food)
Hey, I love dogs and cats as much as the next person, but they can't be responsible if they chew a wire. Also, it's probably best to keep your headset away from any food or drinks. I've heard some horror stories of people spilling soda all over them, which can cause irreparable damage. And if there's someone you think might act carelessly with your headset, don't let them use it. You spent the money, so you should look at like you're protecting your investment.
5. Turn it Off When Overheating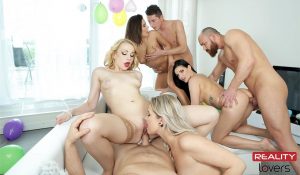 Another obvious point, but a good one to keep in mind, is the over-usage of your headset combined with the natural heat of your face, can make it get way too hot. Turn it off, place it in a cool well-ventilated area and turn it off for a minimum of 30 minutes. And if you absolutely must use it for hours on end, try to either do it in an air-conditioned room or, at the very least, position yourself near a fan.
Your Headset Will Last For Years
As you can see, your headset can last a very long time if you're consistent with its care and cleaning. Sure, I can probably inundate you with dozens of other tips, but if you stick to these five, you should be able to ensure the longevity of your VR device.