Hey there VR porn fans! Have you come across any fun hardcore virtual porn scenes lately? Well, I wanted to let you know about a new series, the first of it's kind actually, coming out this month from one of my top VR sites of all time: Reality Lovers.
Enjoy a Whole Series of VR Porn
The series is called "Sex 'N Fun Downtown." It's made up of four 180° 3D episodes and a new one will be released on a monthly basis. If you think the name rings familiar, you're not alone. It does bring to mind a certain critically acclaimed HBO series that ran from 1998-2004. You know the one. It was about four young-ish professional women in New York City, all trying to balance their work and personal lives while navigating the NYC dating world.
This virtual porn series is just like that show, except we get to be part of the action. The four friends are: Cherry (Cherry Kiss), Shagalotte (Tina Kay), Analda (Elena Vega) and Nymphomanta (Nikky Dream). They each star in their own episode, and a new one will be released every month starting on May 30, 2018.
Watch Cherry's Denial Starring Cherry Kiss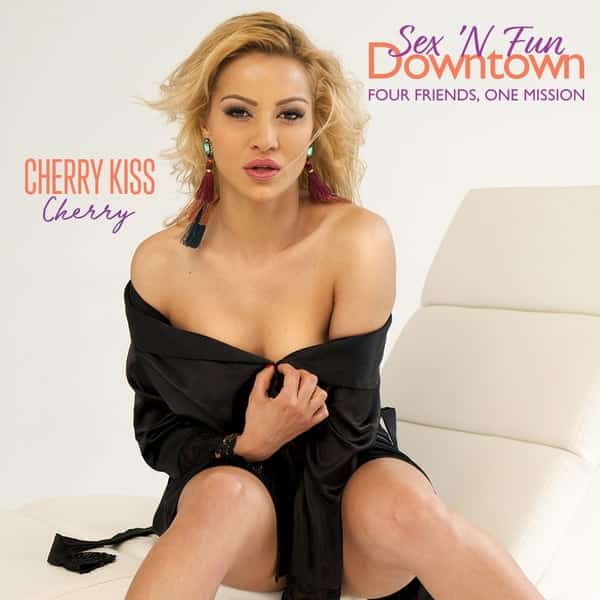 The premiere episode is entitled Cherry's Denials, starring Cherry Kiss. She plays a stunning twentysomething statuesque blonde and, like most women, just wants to be respected and loved by the man in her life. The scene starts off with her, Shagalotte, Analda and Nymphomanta, sitting around and chattin', drinking what I can only assume are Cosmopolitans. After a few giggles, Cherry steers the conversation to the topic of men and how she's going to swear off them forever. Her friends sympathize with her, but it soon becomes obvious that Cherry is hiding her true feelings and is lusting after the man who broke her heart.
The Action Starts to Heat Up
In the next scene, we find Cherry alone in a hotel room when a sharply dressed man with salt-and-pepper hair appears at her door. It's the same man who broke Cherry's heart. Apparently, he had ditched her unexpectedly and hasn't been in contact since. Somehow he managed to track her down and is feeling apologetic. Cherry tries to play it cool, making it seem like she doesn't give a damn anymore. But the smell of his cologne overwhelms her and they embrace for a passionate kiss before she forcefully pushes him onto the couch.
She then get on her knees and they kiss some more, but she can't contain her horniness much longer and whips out his huge cock, brushes her blonde hair aside and starts giving him the blowjob of his life. Then he rips off her pants, revealing her sexy stockings and starts to worship her pussy, eating her out and fingering her for a good long while. They soon take the action into the bedroom, where she gives him another blowjob and then they start to fuck. There's a lot of doggy style where Cherry Kiss's perfect ass really stands out, especially in 3D, and then they switch positions from cowgirl to missionary and a few others. The sound of her moaning is a really big turn-on. The scene ends with Cherry hungrily sucking him off until he cums in her mouth. They end up collapsed in each other's arms, feeling spent but also pretty satisfied.
Immerse Yourself in POV or Voyeur Action
Not too bad, right? If reading that turned you on, imagine how you'll feel when you're immersed in the scene! It's amazing. And what's especially amazing, and for many other scenes from RealityLovers, is that you're able to watch from two different perspectives. One is POV, where you'll be able to enjoy an interactive virtual sex experience from the guy's point-of-view. And then there's the voyeur option, where you're still going to watch the scene in 3D, but it'll be like you're watching it happen right in front of you as opposed to being a part of it. I suggest you try both. I did.
Stay Tuned for Next Month's Episode: Shagalotte's Crush
I really enjoyed this scene. It was entertaining and filled with romance, intrigue and hot sex. I already can't wait for next month's episode to be released, Shagalotte's Crush, staring the sexy brunette Tina Kay on June 20, 2018. Reality Lovers has been one of my top VR sites for as long as I've been reviewing the niche and they've recently updated their site and it looks amazing. They also have tons of other scenes for you to enjoy and they can all be streamed or downloaded on all of the major headsets. So whether you've got an Oculus, Gear VR, Daydream View, or any of the others, you too can have sex n' fun downtown with these sexy, horny friends.