Hi it's Isabelle again, Paul's girlfriend. I'm still on my VR kick and have been watching a ton of scenes that are filmed from a female's point of view. I love that we have this kind of innovative technology that seems to have taken the porn industry by storm. Even better is that more sites are coming out with adult virtual reality scenes that are made specifically for women, which means the ladies can get it on all of the fun! I watched this really hot one the other day on Yanks VR and here are my impressions.
Watch Female POV Scenes on Any Device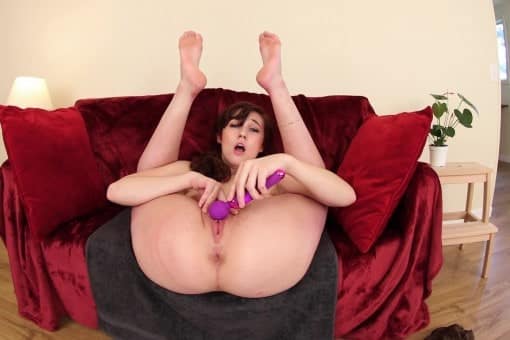 When I watched these 3D scenes, I was using the Oculus Rift. But they're also compatible with the Gear VR, PSVR and your smartphone – in this case it was the Google Daydream. The Google Daydream offers HQ and LQ files and the others offer only HQ files. They're usually 60fps but in the case of the smartphone 30fps was also offered. If you happen to run into trouble with your device like I did, you can visit the handy Device Support link. Paul knows more about the technical stuff than I do, so I was grateful for this section. Note that some files are pretty big, and you may want to make sure you're making enough room on your computer.
Hot and Horny Female-Only VR Action
The scene I watched was called "Flexible Stephie Staar." I picked her because she's a sexy redhead and I have a thing for gingers. The scene opened with me sitting in front of her watching her on a couch. I was surprised at how close her body was to my field of vision and I wanted to reach out and touch her. It felt like my own private show and she was performing exclusively for me. I was able to see her body from all angles and she even gave me a little dance as she stepped out of her clothes. She was soft and sensual and took the time to flirt with me a bit before getting down to business. I was instantly smitten.
Solo Masturbation in 3D
Stephie started out getting comfy on this plush red velvet couch. She's quite flexible (and a squirter) and she easily placed her legs over her head in a position I myself could probably never do. This gave me a great look at her clit and asshole. She giggled up at me and touched herself seductively, grabbing her boobs and lady bits. She then placed her fingers in her mouth to get them nice and wet before sticking them in her muff.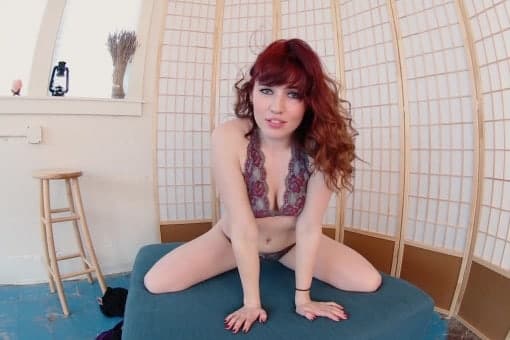 She used her fingers to get her pussy good and ready and once I started to see those sweet drops of juice making their way out of her entrance, I was instantly aroused. It got even better when she took out one of my favorite dildos and used it on a high setting. The vibrating sounds made their way into my ears and I was almost feeling the vibrations myself, which was a huge turn-on. When she was about to cum, I was able to see her privates contracting and it was supersexy. I especially loved the way she had her legs up in the air and would curl her toes as she was approaching climax. I almost felt her squirting me in the face when she finally came.
I would like to personally thank Stephie for this steamy experience. I really enjoyed watching her scene and I'm looking forward to continuing my quest to find more enticing virtual porn filmed from a female's perspective. She's got some more YanksVR scenes too, both solo and with another woman. Go check them out!