I don't know about you, but I love Black Friday. I like to take advantage of the best deals I can find on appliances, games, movies, etc. I'm sure many of you do the same, so why not grab deals on porn while you're at it? I've set up exclusive discounts to some of my favorite VR porn sites – so go ahead and save cash on a membership. After all, nothing helps you celebrates the holidays better than saving money!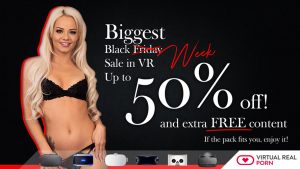 There's a reason VR Bangers earned the #1 spot in my Top VR Porn Sites category. Gorgeous pornstars? Check. Phenomenal 6K resolution videos? Check. New content added regularly? Another check. There's just so much to love about this one and you can snatch up a membership for only $20/month or $100/year ($8/month). I mean, that's practically a steal.
Take your pleasure to the next level! Oh, those aren't my words, but something you'll see on Virtual Real Porn. This is about as immersive as VR porn gets, because not only do these 5K 3D scenes look amazing but also they're compatible with smart sex toys like the Kiiro. They're getting ready to launch a Lifetime option for members for Black Friday – a deal you're not going to want to miss out on!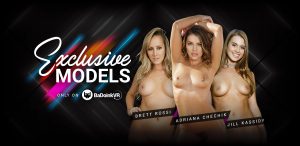 What's better than virtually fucking a pornstar and getting to pretend that you're their boyfriend/husband/student/teacher/etc.? Nothing, that's what! For only $9.95/month, you can check out one of the fastest-growing and highest-quality collections of 180-degree 5K VR porn online on BaDoink VR.
I never thought I'd say this, but how would you like to save money on VR porn and save the forests at the same time? Wankz VR has teamed up with Team Trees, a nonprofit organization focused on planting 20 million trees by January 2020. So why not help them hit that goal by getting one of the hottest VR porn sites packed with interesting and unique scenes for only $9.95? It's a win/win situation!
Big titties right in your face! Yes, I'm trying to get your attention, but it's also an accurate way to describe what you're getting on VR Hush. For a Black Friday discount of only $17.45/month, you'll get up close and personal with some of the hottest bustiest pornstars on the planet, like Brittany Andrews, Angel Wicky and Nikki Benz. Motorboat, anyone?
Grooby is the leader in trans porn, so it's no surprise their virtual reality porn site, Grooby VR, kicks ass. Membership is normally a little pricey, but they justify it by offering a wide range of VR scenes with diverse trans models in 180-degree 4K scenes. Grab it on Black Friday for an amazing price of only $60 for 3 months!
Sex Like Real
Want access to 5,500+ VR porn scenes? Yes, you read that right. Sex Like Real is a literal treasure trove of immersive content covering almost every category of porn you can imagine. All you need to do is use the Black Friday discount code BFPARTY to get it for only $16.67/month. The code is only valid for the first 500 people who use it. So if I were you, I'd get on that now before it's too late. There's another option too. There are about 1,800 super exclusive PPV videos that are not available to members – but they'll be offering those for up to 80% off each!