Wil je neuken? That's Dutch for, "do you want to fuck?" And after taking one glance at the gorgeous Dutch babes in 180° 3D on Net69VR you're going to respond with, "ja!". That means yes. Email me!

Pros
Exclusive VR scenes from the Netherlands
Flawless 3D recordings
Detailed help section
Cons
Doesn't list all headsets for downloads
Problematic with GearVR
Minimal user features
Bottom Line
This is one of the few adult virtual reality sites that I've seen which offers content on a pay-per-view basis instead of an inclusive monthly subscription. It might not be everybody's favorite way of paying for porn online, but at the end of the day, what's really important is the quality of the scenes here. And they are quality scenes, providing flawless 180° 3D immersive hardcore experiences with hot Dutch girls, sometimes, two at a time! I didn't like the way that listed their different file resolutions though, and by that I mean, they don't list them by device type and I think that's one of the reasons why their content didn't play so well on the GearVR.
My Full Net 69 VR Review
This VR Site is PPV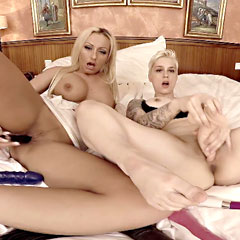 So first things first, you have to know that there are no monthly subscriptions at Net69VR. It's all pay-per-view, and you have to buy credits first. The rates are pretty good so there's no worrying about that, but if you're going to end up watching all of the scenes here, then it's definitely going to cost you more than a monthly subscription to any other adult VR site. I don't like restriction either, but just to prove that the site creators aren't completely unfair, they do offer trailers of all of their scenes for free, so you can try before you buy.
Never Seen Before Hardcore Dutch Porn in VR
Dutch women are perhaps the most suited to be fashion supermodels. They're tall, with statuesque faces and limber bodies. Not to mention that they're super horny and can fuck like nobody's business, which you can experience first-hand in 180° 3D exclusively on this site. That's right, never before has there been any VR site dedicated just to Dutch-fucking, and I think that's the tops. The technical quality of their scenes do also go a long way in making your experience unforgettable.
For all intents and purposes the scaling and colors make you believe that you're really there in the scene with a hot Dutch blonde! I tried out a couple of scenes using both my Oculus Rift and my GearVR, and except for the fact that I couldn't directly download a scene on to my GearVR, forcing me to do a couple of extra steps to transfer the file from my PC to the viewer via USB hardwire, it was as good of a virtual experience as I've ever had.
The User Experience Needs a Couple of Tweaks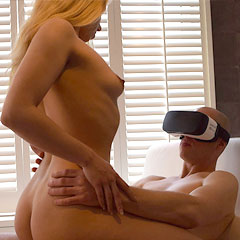 While the virtual experiences here are as good as I've seen on other high-quality sites, the site itself could do with a couple of tweaks to make it more user friendly. First and foremost when you first land on their members area you'll no doubt notice that the whole site is in Dutch! This is remedied easily enough, simply by changing the language settings to English. Another area of the site I had a problem with was the way it lists the different file types for downloading. On most other sites, the different resolutions are listed by the name of the particular viewer, bit here they're are all lumped together, with only distinctions made between desktop and smartphone viewers. There's also no user features of which to speak, save a pretty detailed headset help page, which is fine for the number of scenes it has now, but could potentially become problematic in the future.
Immerse Yourself in Net69VR Today
Aside from the couple of tweaks that I thought the site could use to improve their user experience, I thought Net69VR was an all-around success. A testament not only to virtual erotica, bit how well it suits nearly every niche and genre, including Dutch porn. So if you're looking for a recommendation for this site from me, you got it. And take my advice to try out one of their trailers for free before you purchase a scene, even though quite honestly, they're super hot and hardcore, just the way I know you like your immersive experiences to be.
Click Here To Visit Website
Similar Babes VR

Stasy Q VR brings you premium, high-quality erotica in VR. These women look stunning in these 4K, 3D, 60FPS scenes. The locations are stunning and you'll have a fantastic POV as these babes strip and tease you.
Sign Up Today!
Get exclusive email offers and find your next fav VR beauty.

If you've got a thing for amateur lesbians and you own a VR headset, this site was made for you. These girls love fooling around and you'll love watching them in 180° stereoscopic 3D.

Virtual X Porn has a roster of European models who just can't seem to get enough sex. So strap on your VR goggles and you can have a crack at them too!

How does that old saying go? Sugar and spice and all things nice, that's what girls are made of? The only girls I'm interested in have to be in 3D! VR Girlz is a must-watch.

Wanna hit the clubs tonight? Well, keep in mind the dress code, plus you gotta pay cover, etc. Why not just stay in and go to VR Clubz instead? You'll get lucky every time.

Find yourself right in the middle of the action as the gorgeous girls on Stripz VR put on sensual and arousing stripteases for you in virtual reality. Reach out and try to touch them!