Have you ever wanted to be a furry animal and fuck other furry animals? Who hasn't, right? Yiffalicious makes it possible for you to experience just that with the amazing capabilities of your VR headset! Email me.

Pros
Free!
Detailed in-game help tab
Large amount of community-created content
Cons
Not compatible with 6Dof controllers yet
Can't play with smartphone-based headsets
Bottom Line
This furry sex game is definitely a little unpolished, but the creators are continuously updating it. I wouldn't go so far as to call it a beta version, but rather an early-access alpha version. Meanwhile, the game does look awesome and is fun to play, plus it's free, so you really have nothing to lose. I'd definitely try it out if I were you!
My Full Yiffalicious Review
Like to Yiff?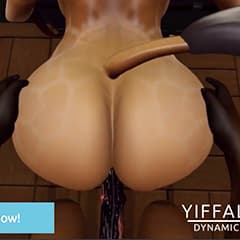 Hey, who remembers that Fergie track "Fergalicious" back in '06? Well, this 3D animated porn game has absolutely nothing to do with it, except for the fact that their names both end in -licious. So then, what is is a yiff? Well according to the online Merriam-Webster dictionary, it's not a word! But what do they know, 'cause I have it on pretty good authority that it's a well established term. Basically, it's a combination word, or portmanteau if you will, of the words yell and sniff. And that is how furries fuck.
Finally, a Game For Furries
If you feel even more confused now compared to when we started, I guess I'll have to start at a more basic level. Simply put, furries are an established subculture of cosplayers who not only dress up in soft, furry animal costumes, but also act like animals. Sometimes this means sexual acts and sometimes this means hardcore sex in animal costumes. Now, take that experience, turn it into a sort of MMORPG and you have Yiffalicious. Here you can create a wide variety of anatomically correct 3D avatars of humanized animal creatures à la The Island of Doctor Moreau and then run around in a 3D-animated environment not unlike Second Life and have graphic 3D sex. Sounds hot, right?
Choose Your Furry Avatar!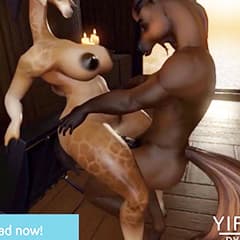 If you've got a favorite animal, or if you have a furry suit of your own, you might be curious as to which animals you'll be able to choose as your avatar. So far in the free version I'm playing, you'll have access to lions, wolves, cats, dragons, antelopes, rhinoceroses and a Christmas tree. I don't know how the last one got in there, but this game is already pretty much out there, so I didn't really blink an eye. You're able to create your own avatar and upload it, but if you want it to look good, you're going to have to have some knowledge of 3D graphics design. Or if you want more avatars, download the Patreon version, where the game designers are asking for a small fee in return and you'll have access to more fun, sexy avatars.
3D Environments
While I said earlier that the gameplay is sort of reminiscent of Second Life (the extremely popular online virtual world), in some ways the graphics here look even better. No doubt because this game is newer and hosts a significantly smaller number of players. The movement of the avatars is fairly fluid and organic and you can even change the environments, from a medieval setting to a bar to a beach house. More settings are available in the Patreon version.
Real 360° 3D Gameplay!
The game is VR capable, but only sort of. You can definitely run it on your computer and play it through your Oculus, like I did, but there's no controller interface, so all you can do is look through it and turn your head 360°. Perhaps in the future they'll add a controller interface, but for now you're pretty much stuck playing it on your computer. I had fun though and I thought the avatars looked cool and the sex was pretty hot, too. It's free to play, but if you purchase it through Patreon you'll be helping the game improve. Here's a link to the Patreon page.
Click Here To Visit Website
Similar 3D Animated Porn

We all want that romantic villa on the French Riviera or the hills of Tuscany for one reason: to have lots and lots of sex. 3D Sex Villa offers just that, plus a whole lot more.

Why leave the house to make friends and flirt when you can customize your very own sexy 3D avatar? The cybersex here is superhot especially since you're enjoying it in VR.
Sign Up and Get Exclusive Email Offers!
Discounts, scenes and deals -All 3D animated, and all FREE!

If making 3D avatars and new friends in a fantastic cyber world where everybody wants to get laid appeals to you, then 3DXChat is something you should definitely sign up for.

If you're sexually partial to kinky and imaginative fetishes, then there's no adult game I recommend more than Sin VR. It's got the best 3D virtual graphics available today.
If you're an anime or manga fan, then you're sure to also be a hentai fan. Straight out of Japan, Hentai 3D offers a myriad of customization options to fulfill all your fantasies.

In Amsterdam, single guys looking to sow their proverbial wild oats head to the city's Red Light district. If you're looking to do the same, all you have to do is click here.

If you've got an Oculus or VIVE, or even a standard computer monitor, you can play this sexy 3D MMO game where you can build real relationships and have hot virtual sex.

EgirlVR is where adult content meets animated gameplay. You're going to have more fun than you ever thought possible! The content is unique, so don't pass up the chance to play.

Gogo dancers are superfun, but if you've ever been to a strip club, you know that a few lap dances can get pricey. Take it easy on your wallet and enjoy a 3D Gogo 2 dancer instead.

Ain't nothing like a sex game to get you off and keep you entertained. Now that VR has been added to the mix, you can strap on your headset and enjoy it in a first-person POV.

Erotic virtual reality need not be just hardcore scenes. After all, the most erotic part of our bodies is our mind. Citor3 offers domination-themed 3D content for the GearVR.

Got yourself a virtual reality viewer? Congrats. Now it's time to watch photorealistic 3D babes suck you off like you've always wanted on VR Jenny. She should work for Hoover!

Like to yiff? If not, have you ever watched a National Geographic doc of two animals humping and feel the beast in you trying to come out? Satisfy your curiosity on Yiffalicious.