Got some more virtual porn games for you in Hentai 3D. This game is full of XXX anime 3D porn, better known to some as Hentai content. I love me some hot hentai action and Hentai 3D really scratches that itch! Email me.

Pros
Fully interactive game
Easy to use software
Excellent choice of fantasy scenarios
Cons
Lengthy installation time
Premium game items are costly
Bottom Line
This site is for hentai fans that have been waiting for the opportunity to create their own scenarios and finally live out their lusty hentai-fueled dreams. It's easy to use, completely interactive and has plenty of customization options will give you complete control of your own fantasy. Those customization options can cost a lot, though, so pace yourself if budget is an issue.
My Full Hentai 3D Review
Finally, a Hardcore 3D Hentai Game!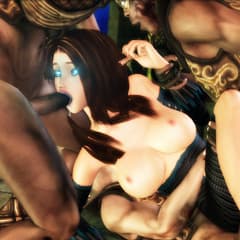 Ah hentai, where my perverse desires that developed after watching episode after episode of "Sailor Moon" finally becomes a reality! And then the geniuses over at ThriXXX (their parent company), who are also responsible for some of the Net's other premium 3D sex games, gave all of us the chance to fashion our own hentai scenes as we saw fit with their creation of Hentai 3D. This 3D sex game cleverly and successfully combines hentai themes with a fully interactive and customizable game that's designed to keep you entertained in a number of ways for hours on end.
It's Easy to Make Your Own 3D Hentai Porn
Now, I'm no hardcore gamer nor am I a software engineer. I'm a porn enthusiast and when I want to boil my potato, I want it to be fun and effortless, with an emphasis on the effortless. Thankfully, Hentai3D is a breeze to download and use. The initial installation time may be a little lengthy, but if you can manage to keep your attention from waning for just a little bit, you'll soon discover how easy it is to use. The game itself is pretty straightforward and comes with a helpful tutorial to demonstrate all of its many options.
I'm a Big Seifuku Fan, How About You?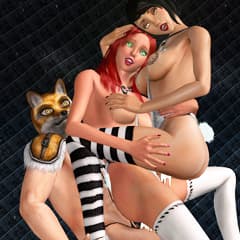 One of my favorite aspects of the game is the imaginative and detailed scenes the designers have included. There's a classroom setting for your seifuku fantasies (schoolgirl uniforms), a temple and an airplane hangar. My favorite has got to be the tentacle monster (I'll let you imagine where you can stick those tentacles in the game), which is no doubt inspired by the famous tentacle erotica woodcut The Dream of the Fisherman's Wife, by the famed nineteenth century Japanese artist Hokusai. Yes, playing Hentai 3D will not only leave you sexually satisfied, but also culturally enriched!
Can You Say Bonus Sites?
Subscribing to this game also includes a bonus membership to four other virtual sex games, also by ThriXXX, as well as an exclusive collection of XXX hentai images. Members will also be given access to Gamerotica.com, a sex game forum that's run and maintained by ThriXXX, where members like you can access thousands of hot user-generated hentai content for use in the game, including models, videos, images and sequences. If you're curious as to what actual gameplay looks like, check out this link to Redtube with a bunch of videos.
Now in addition to the cost of the monthly subscription, you're also going to have to fork over some extra cash in order to get your hands on some of the game's premium items. This is a reality of nearly all online games and especially online sex games.
Customization Costs, But It's Fun!
Sexcoins, ThriXXX's special currency, can be purchased for a modest price, but beware - if you start purchasing multiple items don't be surprised if you end spending a lot of dough. You might be happy with the freebies included in the game, but if you're like me you're going to want to make your fantasy come alive and with that can come a high cost.
Hentai 3D gives you the ultimate control to create your own long-held hentai fantasies without having to go through the laborious and difficult task of actually drawing and producing an show yourself! The game's design has been made with you, the porn fan, in mind, so go ahead and sign up today and start havin' a ball!
Click Here To Visit Website
Similar 3D Animated Porn

We all want that romantic villa on the French Riviera or the hills of Tuscany for one reason: to have lots and lots of sex. 3D Sex Villa offers just that, plus a whole lot more.

Why leave the house to make friends and flirt when you can customize your very own sexy 3D avatar? The cybersex here is superhot especially since you're enjoying it in VR.
Sign Up and Get Exclusive Email Offers!
Discounts, scenes and deals -All 3D animated, and all FREE!

If making 3D avatars and new friends in a fantastic cyber world where everybody wants to get laid appeals to you, then 3DXChat is something you should definitely sign up for.

If you're sexually partial to kinky and imaginative fetishes, then there's no adult game I recommend more than Sin VR. It's got the best 3D virtual graphics available today.
If you're an anime or manga fan, then you're sure to also be a hentai fan. Straight out of Japan, Hentai 3D offers a myriad of customization options to fulfill all your fantasies.

In Amsterdam, single guys looking to sow their proverbial wild oats head to the city's Red Light district. If you're looking to do the same, all you have to do is click here.

If you've got an Oculus or VIVE, or even a standard computer monitor, you can play this sexy 3D MMO game where you can build real relationships and have hot virtual sex.

EgirlVR is where adult content meets animated gameplay. You're going to have more fun than you ever thought possible! The content is unique, so don't pass up the chance to play.

Gogo dancers are superfun, but if you've ever been to a strip club, you know that a few lap dances can get pricey. Take it easy on your wallet and enjoy a 3D Gogo 2 dancer instead.

Ain't nothing like a sex game to get you off and keep you entertained. Now that VR has been added to the mix, you can strap on your headset and enjoy it in a first-person POV.

Erotic virtual reality need not be just hardcore scenes. After all, the most erotic part of our bodies is our mind. Citor3 offers domination-themed 3D content for the GearVR.

Got yourself a virtual reality viewer? Congrats. Now it's time to watch photorealistic 3D babes suck you off like you've always wanted on VR Jenny. She should work for Hoover!

Like to yiff? If not, have you ever watched a National Geographic doc of two animals humping and feel the beast in you trying to come out? Satisfy your curiosity on Yiffalicious.