Here's my review of a super fun VR sex game called 3D Gogo 2 that will fulfill everyone's secret desire to finally have a virtual stripper that looks the way you want her to and dances the way you want her to. Email me.
Pros
Good animation
Plenty of customizable options
Currency can be used in other ThriXXX games
Cons
Can get expensive
No mobile platform
Bottom Line
3DGogo2 is a fun sex game where you control a stripper avatar that you can customize any way you want. Put her in a sexy dress or have her dance completely naked to the music, whatever you prefer. Just don't get carried away too quickly as customization options are what make the costs increase.
My Full 3D Gogo 2 Review
The Much Awaited Successor to 3D Gogo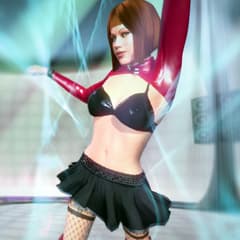 3D Gogo 2 is the much awaited successor to 3D Gogo, a sex game where you get to create and customize your own sexy avatar and then have her shake her moneymaker all night long. Produced by the ThriXXX entertainment group, which is known for creating some of the Net's best online sex-simulation games, this game wasn't created with VR in mind, but it is in 3D, as well as highly interactive and can even be played while wearing a VR headset.
Create & Design Your Own 3D Stripper
As you can probably tell from the sitename, this game is about strippers. Or exotic dancers, if you prefer. It's for those of us who've been to strip clubs and had to contend with dancers who just weren't turning us on. This is one clear example of how sex games are much easier and sometimes more fun than real life, because here you'll always be able to have a stripper who will get your rocks off in no time, every time.
Dozens & Dozens of Customization Options
There are so many different things you can customize, it's crazy. First off, the avatar's appearance can be manipulated in any way you see fit. Height, weight, skin tone, muscle tone, butt size, boob size, hair color & style, public hair color and style, eye color... You get the idea. Though the more you customize, the more it will cost. You have to purchase SexCoins, which is ThriXXX's online currency that you can actually use for all their sex games.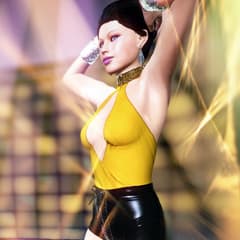 Graphics are always an important consideration when playing these games. After all it's the realistic look that makes so much of it compelling. The animation is pretty good, but there have been so many rapid advancements in computer animation in the past two years that the game is a wee bit outdated by today's standards. Though when it first came out it in 2014 it must have been on point vis-a-vis graphic design.
It's Oculus & VIVE Compatible
Now don't get me wrong, the graphics are still decent - there are no ugly polygonal shapes or an unsmooth resolution, but I think the game is far more compelling when played while wearing a VR headset. It cannot be played on a smartphone, so sorry to Cardboard & Gear VR users everywhere. But you can run the game on your PC and view it through an Oculus Rift or HTC Vive headset if you have one. The help page includes an easy-to-use set of instructions.
Choose Your Own Tunes
What was especially fun was being able to have the avatar dance to your own music! The dancing here was a little offbeat so it looked a little silly, but then I realized it couldn't be any worse than what I would look like dancing to my own music. Then again if I was as hot as my avatar I'm sure nobody would care. The dancing does look better in the actual game mode where you have to press corresponding keys as quickly as possibly according to prompts on the screen, which then makes the stripper dance to the game's pre-set music.
Have as Many 3D Lap Dances As You Want!
All in all, 3DGogo2 was a lot of fun to play and I really recommend it to anyone who's interested in sex games. Instead of having to go out to your local strip club and watch the same old girls who never turn you on, you can instead stay home and make for yourself the exact stripper that'll work your mojo. There can be no grander exercise in self-gratification. Happy dancing!
Click Here To Visit Website
Similar 3D Animated Porn

We all want that romantic villa on the French Riviera or the hills of Tuscany for one reason: to have lots and lots of sex. 3D Sex Villa offers just that, plus a whole lot more.

Why leave the house to make friends and flirt when you can customize your very own sexy 3D avatar? The cybersex here is superhot especially since you're enjoying it in VR.
Sign Up and Get Exclusive Email Offers!
Discounts, scenes and deals -All 3D animated, and all FREE!

If making 3D avatars and new friends in a fantastic cyber world where everybody wants to get laid appeals to you, then 3DXChat is something you should definitely sign up for.

If you're sexually partial to kinky and imaginative fetishes, then there's no adult game I recommend more than Sin VR. It's got the best 3D virtual graphics available today.
If you're an anime or manga fan, then you're sure to also be a hentai fan. Straight out of Japan, Hentai 3D offers a myriad of customization options to fulfill all your fantasies.

In Amsterdam, single guys looking to sow their proverbial wild oats head to the city's Red Light district. If you're looking to do the same, all you have to do is click here.

If you've got an Oculus or VIVE, or even a standard computer monitor, you can play this sexy 3D MMO game where you can build real relationships and have hot virtual sex.

EgirlVR is where adult content meets animated gameplay. You're going to have more fun than you ever thought possible! The content is unique, so don't pass up the chance to play.

Gogo dancers are superfun, but if you've ever been to a strip club, you know that a few lap dances can get pricey. Take it easy on your wallet and enjoy a 3D Gogo 2 dancer instead.

Ain't nothing like a sex game to get you off and keep you entertained. Now that VR has been added to the mix, you can strap on your headset and enjoy it in a first-person POV.

Erotic virtual reality need not be just hardcore scenes. After all, the most erotic part of our bodies is our mind. Citor3 offers domination-themed 3D content for the GearVR.

Got yourself a virtual reality viewer? Congrats. Now it's time to watch photorealistic 3D babes suck you off like you've always wanted on VR Jenny. She should work for Hoover!

Like to yiff? If not, have you ever watched a National Geographic doc of two animals humping and feel the beast in you trying to come out? Satisfy your curiosity on Yiffalicious.